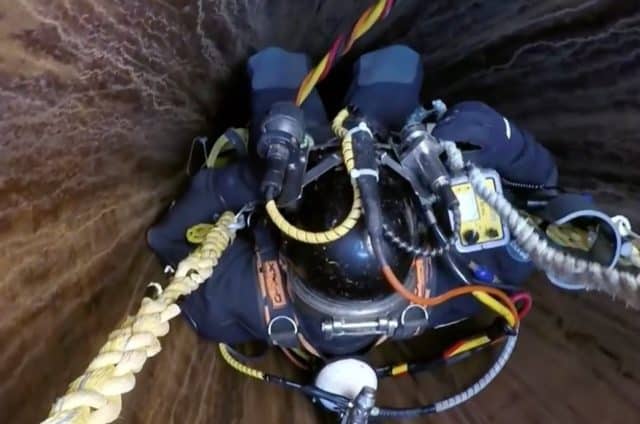 For those who are curious, it has been confirmed that there will be a Season 5 of The Curse of Oak Island. As a result, it should come as no surprise to learn that History has stepped up its efforts to encourage hype for the upcoming season, which has been flagging for some time because of the lackluster results so far. In particular, there has been a fair amount of marketing material suggesting that something new has been found on Oak Island, with the latest example being a new trailer providing more hints the supposed findings.
What Does the Latest Trailer Reveal About Season 5 of Curse of Oak Island?
Unsurprisingly, the trailer is meant more to tantalize than to inform, though there is still some new information that has been bundled into it that was not revealed in the previous trailer.
For example, a coin was revealed in the previous trailer, but it received some more focus in the latest footage. The context suggests that it was found using a hand-held metal detector of all things, but without seeing the actual scene, it is impossible to determine whether this is what happened or not, seeing as how this would be far from being the first trailer to mislead its viewers via strategic positioning of the footage that has been filmed.
Regardless, more footage reveals one team member holding what looks like a piece of bone. Unfortunately, it lasted no more than a moment, meaning that it was impossible to confirm whether it was bone or not. This was not helped by the fact that its irregular shape as well as its brownish coloring meant that it could have been a number of other things as well. Meanwhile, the footage of a crew member getting injured by what seems like a high pressure hose is shown once more, though this time, it is made to look more serious by the arrival of an ambulance on the scene. Finally, there was new footage of a diver being lowered into the ground along with their equipment, which is interesting but not provided with sufficient context to understand what is happening as well as why it is happening.
Combined with the material that was shown in the previous trailer, it is clear that the new trailer set out to accomplish two aims. First, it is meant to play up the supposed curse that is attached to Oak Island, which is why it put so much focus on the incident with the high pressure hose. Second, it is meant to stress the idea that something new has been found, which explains the items shown up in the trailer as well as the scene of the diver getting ready to go into the ground.
What Does This Mean?
Overall, the new trailer for Season 5 of The Curse of Oak Island did its job, but it remains to be seen whether the actual season will be able to live up to its promise. Suffice to say that Season 4 was hyped up as well, which has made up more than one viewer rather cynical about what is being promised of Season 5.