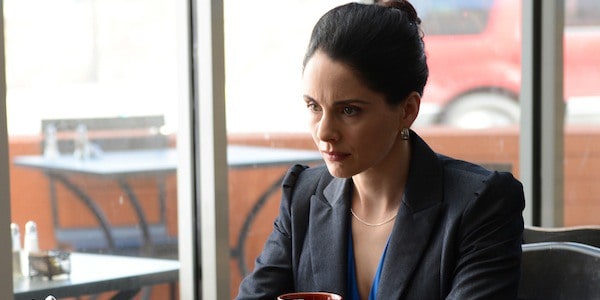 It's always fun to have an 'aha' moment when you finally recognize someone on screen from somewhere else. Some folks are easy to pick out while others take on a different appearance for each role and therefore change just enough that you might recognize them even if you don't remember from where. Laura Fraser is a woman that's been around for a while and knows the ins and outs of show business even if she hasn't always been in center screen with every role. The art of being a supporting actor though is that one tends to bolster the ranks and helps to secure the stability of the movie or show without having to be the center of attention at all times. Laura has done this quite well throughout her career and in fact it seems that this seems to be one of her strongest attributes as an actress.
Here are a few things about Laura you might not have known.
10. She's committed herself to being a teetotaler.
If you need an explanation of what a teetotaler is don't feel too bad since the term isn't used so often that it would be commonplace these days. All you need to know is that she's abstained from the use of alcohol in her life. So basically she's a non-drinker, just using a fancier and somewhat outdated term for it.
9. A lot of her roles feature her as a very strong character.
She does play strong-willed characters in many of her roles as this seems to be who she is and what she enjoys doing. Of course that strength is sometimes bound up in the fact that her characters can sometimes be a bit domineering or close to psychotic as well, meaning that the strength they have over the other characters is that no one wants to mess with them.
8. Her American accent is pretty much flawless.
It's so flawless in fact that a lot of her fellow costars on Breaking bad didn't even realize she had an accent until she let it be known. This is the type of actor that can blend in just about anywhere since people can't tell if they're a native to the area or not.
7. She wasn't really sure if she fit in when it came to Breaking Bad.
Laura was definitely excited and felt very lucky to get the gig but at the same time she felt like someone that was late to the party and didn't quite fit in. Fans would likely deny this since her character most definitely took the show to yet another level that it was needing and provided another character to contend with that was well-done and quite valuable.
6. Her net worth is around $3 million.
She might not be as well known to a lot of people but at the same time you don't get to be worth this much by doing as little as possible. Laura has managed to make herself worth a great deal by showing that she can and will turn up in a big way and provide a quality performance.
5. She was in a relationship with Paul Bettany at one point.
They starred together in a movie so it's not too hard to think about where they met, but their relationship didn't make it past 2003 and after a while she did get married. Still, it's fun to take a look back at the movie they starred in and take note of the subtle hints here and there that might have occurred between them.
4. Laura is one of the smaller women in Hollywood.
She stands at roughly 5'2″ so she's not a big woman and even in heels she seems about average. One thing about being in Hollywood though is that there are so many different angles and ways to make a person seem taller that a lot of people might not have known this if it hadn't of been mentioned.
3. She was in A Knight's Tale.
Laura played the role of Kate, the blacksmith, who is also the strong-willed woman that helps the main protagonist played by the late Heath Ledger to further compete by forging thinner, smaller armor that can take a much heavier hit.
2. It sounds as though she dropped out of school to pursue her career.
A lot of people have done this in their career and so far it would seem that those who do the best are the ones that get noticed since too many others it would seem just crash and burn. But thankfully Kate wasn't added to those numbers as her career eventually took off and led her to where she is now.
1. So far her life has been free of any serious controversy.
This is always one of the best things that anyone can hear about a celebrity since it doesn't mean that they've never done anything wrong, but it does mean that they manage to keep their life out of the tabloids.
So far in her career Laura has done quite well, and it'll be interesting to see where her career continues to take her.