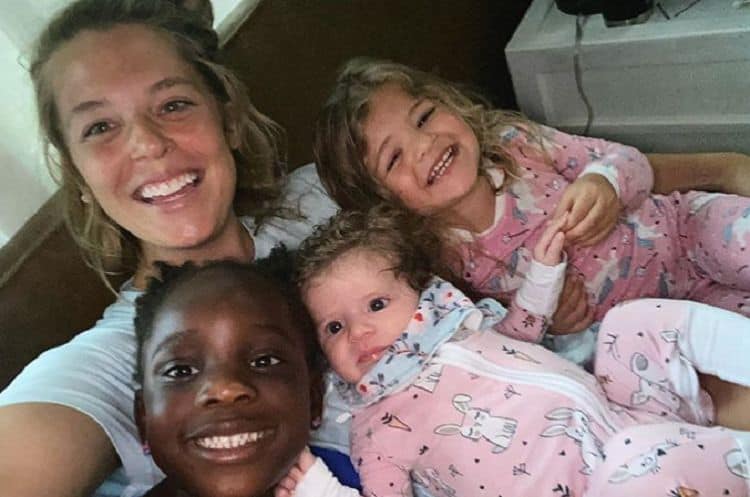 The death of George Floyd has taken the internet by storm, and one person who has been vocal about her support against racial discrimination is Lauren Akins. She and her husband have a black daughter whom they adopted from Uganda in 2017, and they know that they have to ensure a safe place for her to live in through taking a stand against racism. She said that we should love what is evil, and being white does not mean she is incapable of loving a black person. Lauren is best known for being the author of "Live in Love," but there is more to her than inspiring her husband's love songs. Learn more about her from the facts listed below.
1. Her book's release
Lauren planned on promoting her book with a tour that would start on May 2, 2020, in Nashville. Unfortunately, the COVID-19 pandemic has gone on for longer than we expected; hence she has pushed the tour's start date to August 15, 2020. The release of the book is scheduled for August 18, 2020, and those who had purchased their tickets should not worry because they will still be valid then. VIP ticket holders will get a personalized copy of the book as well as a meet-and-greet and photo session with Lauren.
2. She was not sure about her pregnancy with her third daughter
Many women have gained weight, thinking it is because of their sedentary lives only to be hit by labor pains and have the surprise of their lives. Although it did not come to that for Lauren, she was not sure if the vomiting she experienced was due to being pregnant or not. Therefore she told Mummy Pages that she was sorry for canceling meetings and going MIA because she also did not know what was happening in her body. However, her family was excited to have another girl on the way.
3. She has known her husband since they were in first grade
Speaking to Taste of Country, Lauren's husband explained that they met when in first grade. They became friends, and at 15, Lauren and Thomas dated briefly for six months before deciding it was better to remain best friends instead. They even dated other people following the break-up, and after five years, Thomas found out that Lauren was single. Consequently, he pursued her relentlessly, and they ended up dating again for six months. In December 2011, he popped the question, and the couple got married in October 2012.
4. She is not obsessed with the color pink for her girls
In any baby shower, the moment you see pink, you conclude it is a girl while blue is reserved for boys. Lauren, however, does not have a pink craze when it comes to decorating her children's rooms. She used only a little pink and even some blue for her second daughter's nursery. Even in Willa's bedroom, Lauren also avoided pink, and the little girl loved the colors and African theme used.
5. She did not know how to tell her family that she was expecting a child
People set new standards every day when revealing they are expecting a baby; photo shoots have been known to cost thousands of dollars. Unfortunately, while Lauren and her husband wanted to have a unique way to tell their family about the good news, they had limited resources. As she told People, they decided to frame a picture in which Willa had a "Big Sister" sign taped on her dress.
6. She has a supportive husband
Lauren's husband has been in the spotlight for longer than Lauren; therefore, he is used to both positive and negative comments. While he does not bother responding to his critics, Thomas does not expect them to hate his wife, thus defends her. When the couple attended the CMT Awards together, Lauren's outfit attracted hateful comments with people saying that she needed a stylist because the dress had "trailer park vibes." Her prince charming defended her, saying people were open to criticize him and his outfits, but his wife was off-limits.
7. Her mother is adopted
While most know that Lauren became a mother for the first time by adopting a little girl from Uganda, they do not know that her mother influenced her decision. Lauren's grandmother adopted Lauren's mother; therefore, seeing how much adoption can have an impact on a person's life, Lauren considered adopting a child as well.
8. Her biggest accomplishment is being a mother
After adopting Willa and giving birth to Ada, Lauren experienced the hectic life of a mother. She confessed that she barely slept and washing her hair may not have been as regular as it was before, but still, nothing compares to being a mother. For her, the pounds she had put on during her pregnancy were all worth it even if she could no longer fit in her skinny jeans. What matters most to Lauren are the countless cuddles, kisses, and loving words that her children whisper to her. While most consider giving up their social life and even careers as a sacrifice, Lauren describes raising children as a privilege, and her girls are her world.
9. She thought her third child would be a boy
Lauren had experienced a lot of nausea during her pregnancy with Ada, and her third pregnancy was worse. Still, although she knew that girls are generally said to cause more nausea than boys, she thought she would have a boy. Her husband shared her assumption, and Lauren told Country Living that most likely it is because the thought of raising three girls overwhelmed them. All the same, when Lennon was born, Thomas was happy that he would shoulder the cost of three weddings once his girls are all grown up.
10. Her mother taught her to be kind
Lauren remembers that her mother would stop and greet whoever she met, and if they started talking, she never cut them off. Her mother made every person feel like they were a priority, and she still does, regardless of whether you are a stranger or her best friend. Such lessons are what she wants to impart on her daughters since she believes kindness makes one more beautiful.