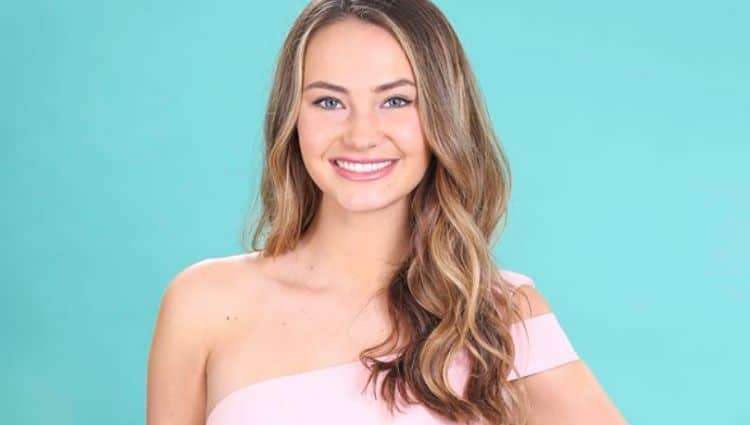 The latest season of The Bachelor is officially underway, and fans are excited to learn everything they can about each of the contestants. However, diehard Bachelor fans may notice that there's one contestant who seems to be absent from the show. Lauren Maxey was supposed to appear on this season of the show, but when the first episode aired she was nowhere in sight. What exactly happened to the dirty blonde beauty? Would her presence on the show have shaken things up? Keep reading for 10 things you didn't know about Lauren Maxey.
1. She Quit The Bachelor Before The Show Aired
Are you a Bachelor viewer who isn't familiar with Lauren Maxey's name? If so, that's because she never actually appeared as a contestant on the show. Although she was slated to be a part of the cast she decided to leave before getting deep into the process. Her exact reasons for leaving haven't been made entirely clear, but many suspect it's because the process for becoming a contestant can be very grueling.  Apparently, contestants are asked to go through physical and mental exams before being officially approved.
2. She's From Florida
Since Lauren Maxey never actually made it onto an episode of The Bachelor even the basics about her are a mystery to most fans. For starters, Maxey is a Florida native who is from the Miami area. It's unclear whether or not she still lives there. Southern girls often tend to be fan favorites on the show, so there's a chance Lauren could have become a very popular contestant.
3. She's A Model
Lauren definitely knows how to use her good looks to her advantage. She is a professional model who has worked with several agencies including the infamous Wilhelmina. She seems to have had a successful career so far and has been featured in several photo shoots. She's even modeled for some big brands like Chanel and Rue 21.
4. She's Taking A Break From Social Media
As a model, you can guess that Lauren Maxey has spent a lot of time posting pictures on social media. However, it looks like she's decided to take a bit of a break. She hasn't posted a picture on her Instagram account in a little over two months. My guess is she's laying low to avoid getting caught up in any Bachelor related drama.
5. She Usually Goes By Her First And Middle Names
Bachelor enthusiasts may know her as Lauren Maxey, but in the modeling world, she's known by her first and middle name, Lauren Ashley. She has several modeling profiles listed under Lauren Ashley and she also goes by this name on social media.
6. Bachelor Blogs Revealed Her Self Elimination Before The Season
Lauren Maxey may not have made it to an actual episode of The Bachelor, but that hasn't stopped her from being a topic of discussion among fans. In fact, several online threads and Bachelor blogs posted that Lauren had decided to leave the show long before the season even aired. Many of these fans even attempted to piece together why she left and what she was up to now.
7. She's An International Traveler
There's something very special about visiting different areas of the world, and this is something Lauren Maxey truly understands. Her modeling career and her natural love of traveling have allowed her to visit lots of cool places. She's been lucky enough to travel internationally to places like Iceland and Australia which is the home of one of the modeling agencies she works with.
8. She Loves Animals
The more we learn about Lauren, the more it seems like she could have been a great fit on The Bachelor. In addition to her good looks and southern charm, Lauren is also a huge animal lover and a pet parent. Her Instagram is full of pictures of her hanging out with all sorts of different animals including pigs and giraffes. On top of that, she also has an adorable little dog named Ruby who she loves cuddling with.
9. She's Been Posted On TMZ
Lauren Maxey may not be a huge name in the modeling world, but she's well-known enough that the popular gossip site, TMZ, has posted her in the past. In 2017, Lauren and fellow model, Selena Weber, were pictured strutting their stuff on the beach in skimpy bikinis.
10. She Lost Her Grandfather To ALS
Also known as Lou Gehrig's disease, ALS is an illness that affects the muscles and can result in death. ALS awareness was brought to the spotlight with the rise of The Ice Bucket challenge back in 2014. Lauren Maxey lost her grandfather, Randy, to the disease in 2013.