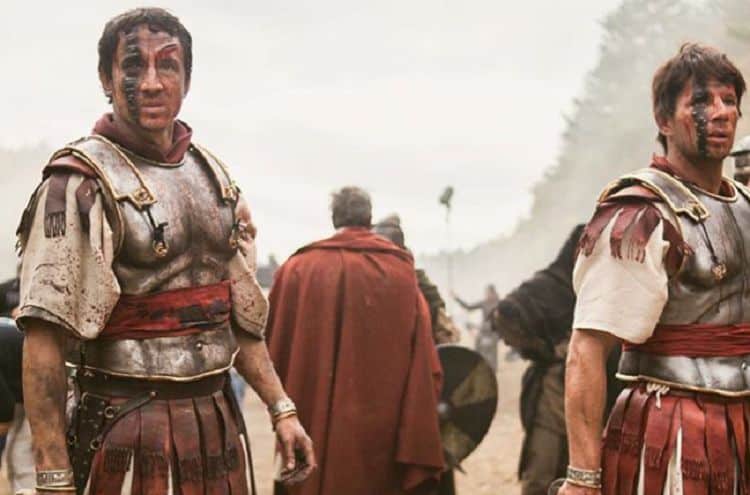 Laurence Rupp may not be a name that American TV fans are familiar with just yet, but that's all about to change. The talented Austrian actor is the star of the new Netflix series Barbarians, and he is officially getting the chance to share his talents with a large international audience. The series was originally filmed in German but has been dubbed in English and other languages. In the show, Laurence portrays a warrior name Arminius and he gets the chance to tap into his intense and competitive side. The series may be short, but that also makes it the perfect thing to binge watch. If you're not familiar with Laurence's work, Barbarians is the perfect introduction. Keep reading for 10 things you didn't know about Laurence Rupp.
1. Playing Arminius Is A Dream Come True For Him
Playing Arminius in Barbarians isn't only a big opportunity for Laurence as an actor, it's also a big accomplishment on a personal level. He told Meaww, "Being able to play this role made a childhood dream come true. Which little boy doesn't even want to portray a great warrior on a horse with armor?"
2. He Started Acting When He Was A Kid
Most people would agree that becoming an actor was simply Laurence's destiny. He developed an interest in acting at an early age and landed his first role when he was just 12-years-old. After the opportunity, however, he decided to focus on school and only acted periodically until he was done with high school.
3. He's An Award Winner
In the entertainment industry winning an award is one of the best ways to signify that your work is respected and appreciated. Laurence may not have the longest history with awards, but he does have one impressive win. In 2019, he won a Austrian Film Prize for Best Male Leading Role.
4. He Loves Hanging Out By The Water
Even as an actor with more than 20 years of experience, the celebrity lifestyle hasn't gone to Laurence's head. He sincerely enjoys the simple things in life, one of which is spending time outdoors. When he isn't working, you can catch him spending time by the water doing things like swimming and surfing.
5. He's A Father
Laurence has always been the kind of actor who likes to keep his personal life under wraps, and that hasn't changed. Even though we don't know much about his private life, we do know that he is the proud father of two children. His oldest child is with actress Sabrina Reiter  and his second child is with actress Paula Schramm.
6. He Loves To Travel
Traveling is a great experience for a number of reasons. Not only is it a great way to create memories, but visiting new places can also help people expand their view of the world. Laurence has been fortunate to visit many places over the years. Some of the countries he's been to include Croatia and Greece.
7. He Envies The Fact That Arminius Is A Thinker
One of the cool things about being an actor is getting the chance to place people with characteristics that you may not embody in real life. During an interview, Laurence shared that his favorite thing about Arminius is the fact that he's a thinker. He said, "He thinks before he acts. On the other hand, I often say or do first and only then think about it afterwards. Arminius always prepares himself well, thinks about his next steps very carefully and has his emotions under control. I might as well learn something from that."
8. He Has Lots Of Theater Experience
Being on screen has gotten Laurence recognition all over the world, but theater will always have a piece of his heart. He has been a part of several stage shows during his career with his most recent theater appearance being in the 2018 production of Panikherz.
9. He Supports The Black Lives Matter Movement
The Black Lives Matter Movement may have started in the United States, but it has reached places all over the world. Many people in other countries have shown their solidarity, and Laurence is one of them. He used his Instagram platform to show his support for the moment and the overall fight to end racism.
10. He Lives In Berlin
Laurence was born and raised in Austria. While many Americans probably assume that every entertainer has the desire to eventually move to the United States, that isn't the case for Laurence. He currently lives in Berlin and doesn't appear to have any plans to leave.