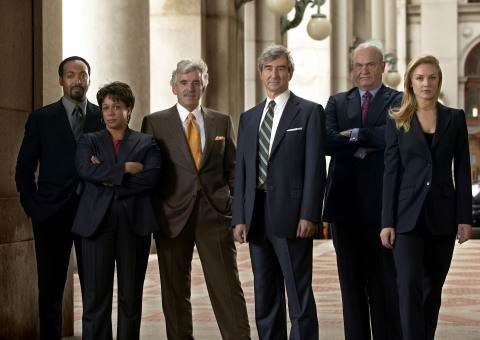 It looks like the detectives from NBC's longest-running police procedural are about to steal something. Something big. And they're going to get away with it squeaky clean.
How big is it, you ask? Oh, only world record big.
That's right. NBC has renewed Law & Order for a twenty-first season, which will begin in fall of 2010. What's so special about this twenty-first season? Well, it breaks the previous record for longest-running drama in television history. That title previously belonged to Gunsmoke, a series which ran for twenty seasons.
NBC's President of Primetime Programming, Angela Bromstad, voiced her support for the series, stating that she was 'a Law & Order junkie.'
Bromstad also stated that she could not in clear conscience cancel Law & Order on the eve of such an important landmark. "I wouldn't want to be responsible for not having Law & Order break the record," she stated.
Law & Order is one of NBC's strongest performing shows, and has inspired several spinoffs. Law & Order: Special Victims Unit premiered in 1999 and is currently in the middle of its eleventh season. Law & Order: Criminal Intent premiered in 2001, and recently completed its eighth season after being moved to USA Network with its seventh season. A short-lived spinoff, Law & Order: Trial By Jury was cancelled after one season in 2006 after being consistently beaten in its timeslot by Numb3rs. Overseas spinoffs have also been produced.
Law & Order stars Jeremy Sisto and Anthony Anderson as detectives Cyrus Lupo and Kevin Bernard who investigate the crime in the first half of the episode, while S. Epatha Merkerson, Linus Roache, Alana de la Garza, and Sam Waterston portray the legal team who tackle the case in the courtroom during the second half of the episode.
Law & Order's twentieth season will resume on January 8 with the episode "Blackmail."