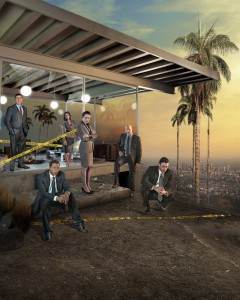 Count me as one of the people who rolled their eyes when NBC made the decision to axe the reinvigorated Law & Order right before it made TV history, only to replace it with this West Coast spinoff in the same timeslot. Why, I thought, do you get rid of a show that's getting its second wind…and then why do you replace it with a version of itself? It seemed a slap in the face to Law & Order fans.
The show didn't do itself any favors with its unorthodox opening sequence, which threw out the beloved Steve Zirnkilton narration in favor of just putting the show's logo over a black-and-white map of the Los Angeles area and the beat of some pop music. In fact, it makes the unfortunate choice to bypass an opening sequence altogether, going for the now-commonplace tactic of running credits over the first act. While for some shows this doesn't matter, Law & Order's opening is so iconic that it seems a sin of omission. In fact, series composer Mike Post is gone from this incarnation, despite doing the music for Law & Order, Special Victims Unit, and Criminal Intent. Yet that turns out to be just one of several major changes.
The episode's plot is, of course, ripped from the headlines – this time lifted from the 'Hollywood Hills Burglar Bunch' robberies from 2009, except this time there are dead bodies, injured parties, and shootings involved. Of course, as with most things regarding the young, rich and famous, it's not long before people are double-crossing each other and things are a tangled mess. Like the parent series, the plots don't take a genius to figure out, and "Hollywood" is no exception, which makes the characters all that more crucial to the enjoyment of the series. A fairly routine plot can be lifted up by great characters, but it takes a certain kind of actor to create a fully-drawn character within the constraints of the Law & Order formula, which is notorious for skimping in that department. (I'm reminded of a conversation I had with an acquaintance who starred in the remake of Dragnet – also a Dick Wolf product – where we counted that his character had literally three facts of backstory provided over the entire run.) This, of course, brings me to the new cast, a combination of promising and uncertain.
Investigating the crimes are our two new detectives: Rex Winters (Jericho's Skeet Ulrich, trying yet again to show his considerable talents in a show that isn't axed prematurely) and Tomas "TJ" Jaruszalski (ER's Corey Stoll). It's hard to get a read on who either Winters or TJ really are in the first hour, though Ulrich is as likeable as ever (if anyone can salvage likeability out of what's already been leaked of Winters' messy personal life, it's Ulrich). While they'll no doubt be compared to the gold standard of Law & Order detectives known as Jerry Orbach, they make a decent showing of themselves and show the possibility of gelling well together later on. They certainly held my interest. Their boss is played well enough by Wanda De Jesus, but it's hard to care when we already know she's being replaced by Rachel Ticotin next week.
It's an interesting change to not have a definitive arrest by the end of the first half of the show; normally on a Law & Order, you can set your watch by the idea that someone will be locked up in thirty minutes. Yet in "Hollywood," we meet Deputy D.A. Peter Morales (Alfred Molina) and his second chair Evelyn Price (Ally McBeal's Regina Hall) while the case is still open. Molina seems out of place so far; Hall is decent enough, but it says something when the most interesting attorney in the episode is the defense attorney played by veteran character actor Michael O'Neill. Molina has only done infrequent work in TV (though he did appear as a defense attorney in the SVU/Trial By Jury crossover episodes), so perhaps he just needs time to settle into the role; alternating episodes with Terrence Howard will no doubt help alleviate the idea that he has to be the driving force in the second half of the show. Viewers of the franchise have been spoiled, however, by the forceful personalities of EADAs played by the likes of Michael Moriarty and Linus Roache on the original series (the latter in particular, who always seemed to do something every episode to capture attention), and they won't find that same intensity here.
"Hollywood" stacks itself with guest stars in a presumable attempt to draw some power to the premiere, whether it's Oded Fehr, Desperate Housewives' Danielle Panabaker, or Babylon 5's Mira Furlan. However, all the guest stars in the world can't help a show if the regular product isn't worth the trouble. As it is, the series generally sticks to the formula with the plot, but the actors are still trying to settle into their characters (some more than others), and it shows. There's just not anything here to get excited about, not yet, anyway. While Ulrich and Stoll show promise as a new detective pair, the attorneys leave something to be desired, and the plot doesn't even have that question for the viewers to chew on at episode's end that made even the most rote Law & Order episodes at least worth thinking over.
Interestingly, Law & Order: LA is the first of the brand – even counting Law & Order: Trial by Jury and Conviction – that Dick Wolf isn't the sole creator of; he's joined here by Blake Masters (who also created Showtime's Brotherhood). I'm cautiously optimistic for their series. On one hand, we've seen the spinoffs that differ from the brand's formula (Trial By Jury, Conviction) fail miserably, and Los Angeles definitely deviates from that formula. On the other, the show's competition is the underperforming The Whole Truth, the oddball The Defenders and the local news, so perhaps the time slot and name recognition will work in the show's favor. I expect the premiere to draw large numbers out of curiosity alone, but I wonder how many Law & Order purists will stay tuned; there seems to be no middle ground with this franchise. Either a spinoff sticks for a good decade, or it goes down by season's end. Unfortunately, Los Angeles seems to lean toward the latter thus far.
My chief objection with Law & Order: LA is the same one I had with Nikita: if you're going to borrow from or be part of an existing property, you have to appreciate that property. At least Nikita is trying to tell a new story and take things in a new direction, for better or for worse; this series wants to stay in the same space but without respecting what that means. Los Angeles didn't just get rid of the iconic music and title sequence; it also lost the great characters that the original had and the food for thought that the brand's scripts so often provide. Unless some of that comes back over time, it's not going to be Law & Order, just another generic cops-and-lawyers show in a world already oversaturated with the genre.
That said, next Wednesday sees Howard's debut in the DDA role, plus a guest appearance from the always stellar Jay Karnes (of The Shield and Burn Notice fame) as a defense attorney, so I'm willing to give the show one more look. What about you? Are you put off by the changes or embracing the differences? How does this version stack up to the previous incarnations? Let me hear your thoughts.