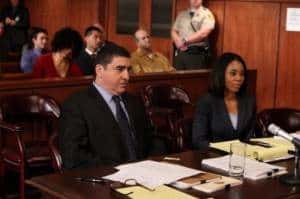 Law & Order: Los Angeles is currently on winter hiatus, but there are some very big changes in store for the show. The series debuted in the Fall of 2010 on NBC to approximately 10 million viewers and has fluctuated in the ratings. It's fluctuated enough to cause a major overhaul in the second half of the first season.
According to TV Squad, LOLA creator Dick Wolf has revealed that Skeet Ulrich, Regina Hall and Megan Boone will all be leaving the show. This is curious since Ulrich is one of the main stars of the show and one of the main detectives investigating cases. Ulrich is set to depart the show in episode 14, which should air in March.
With three stars set to leave, Wolf plans to elevate the roles of Alfred Molina and Terrence Howard. Molina currently plays D.D.A. Ricardo Morales, but he'll return to his previous job as a detective when Ulrich leaves the series. He'll be paired with Ulrich's former partner TJ Jaruszalski, played by Corey Stoll.
Meanwhile, Terrence Howard's D.D.A Jonah Dekker will step into the role left behind by Morales and become the new lead prosecutor. Previously the two D.D.As had traded off on trying cases this week, but Wolf felt they needed to be elevated:
"We have the fortune of two world class actors on 'LOLA,' and it was frustrating to have one on the bench every week. It would be like having Peyton Manning and Tom Brady as your quarterbacks, playing alternate games," Wolf said in the statement.
The show is also looking to cast a new ADA to work under Howard's character. Will the revamping of the cast lead to higher ratings for this struggling show?
clarissa @ tvovermind.com
twitter.com/clarissa373
twitter.com/tvovermind