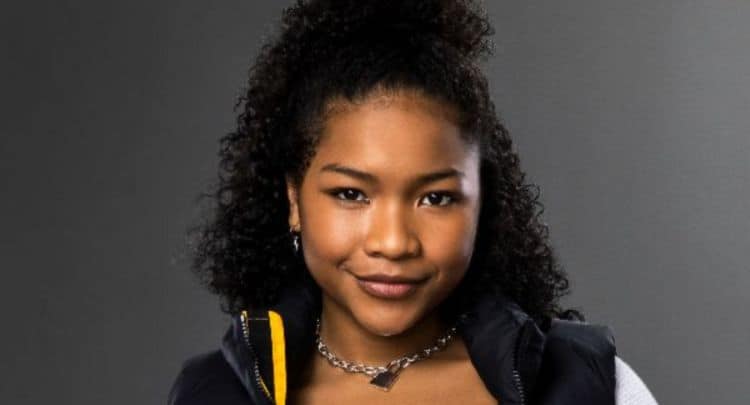 Most of the people who know Laya DeLeon Hayes would probably agree that she was born to be a start. She fell in love with performing at a young age and it quickly became clear that she was working with more talent than the average kid. Since making her debut TV appearance in 2013, Laya continued to show that she's the real deal. She has appeared in several successful projects and she recently got a huge opportunity with her role in the TV series, The Equalizer. In her role as Delilah, Laya has gotten the chance to share her talent with a large audience and people are really falling in love with her. Keep reading for 10 things you didn't know about Laya DeLeon Hayes.
1. She Was The Voice Of Doc McStuffins
Even if you're not familiar with Laya's face, there's a good chance you've heard her voice. She was the voice of the title character in the popular animated series, Doc McStuffins. Laya voiced the character for seasons three, four, and five after replacing the original actress, Kiara Muhammad.
2. She Comes From A Diverse Background
Kiara was born in North Carolina but raised primarily in Texas. Her father is Black and her mother is Filipino and she feels a close connection to both cultures. She is grateful for the opportunity to be able to provide representation for other young girls who look like her.
3. She Loves Giving Back To Others
Despite still being pretty early on in her career, Laya has already discovered the importance of helping the people around her. She has volunteered with several charity organizations including Indianapolis Children's Hospital where she read to young patients and the Los Angeles Mission where she helped feed the homeless.
4. She Is Only 16-Years-Old
With all of the things that Laya has already accomplished, some people may find it hard to believe that she's still a teenager. Laya is only 16-years-old which makes her around the same age as her character on The Equalizer. The entertainment industry is so well known for hiring adults to play children and teens that it's always surprising when a real-life young person is cast.
5. She Likes To Sing
Acting has become the thing that Laya is famous for, but she's also a talented singer and she loves music and acting equally. That said, however, it doesn't appear that she has ever made any attempts to pursue singing at the professional level. Now that her acting career has really taken off, that appears to be where all of her focus is.
6. She Has An Official Fan Page
Even though Laya is still fairly early on in her career, she has built a strong fan base full of people who love her work. She already has an official Instagram fan page that is dedicated to sharing updates and exclusive content regarding Laya's journey. Her fan profile currently has more than 360 followers.
7. She Hopes To Eventually Do Behind-The-Scenes Work
Being in front of the camera has been Laya's focus so far, but there's a good chance that one day she'll get the chance to experience things from the other side. One of Laya's long-term goals is to become a producer and director and tell the stories that are the most important to her.
8. She Is An Activist
In general, teenagers have a reputation for being self centered and apathetic, but that isn't how Laya gets down. She already has a strong sense of self awareness and an understanding of what's important to her. She has already expressed her stance on several causes including anti-bullying, women's rights, body positivity, and anti-racism. Laya has used her platform to spread awareness to these causes and she will likely keep doing so in the future.
9. She Likes Spending Time Outdoors
Laya is grateful to be able to make a living doing something she loves, but like everyone else she needs a break every once in a while. When she isn't hard at work, being outside is one of her favorite things to do. Laya loves doing things like going swimming, rollerblading, and hiking.
10. She Is Into Fashion
Laya hasn't done any work in the fashion industry, and there's nothing to suggest that she plans to. However, with her sense of style she would easily blend right in. Laya enjoys fashion and being able to put outfits together for herself for various occasions.  Whether she's hanging out with friends or going to a special event, Laya is going to show up looking her best.