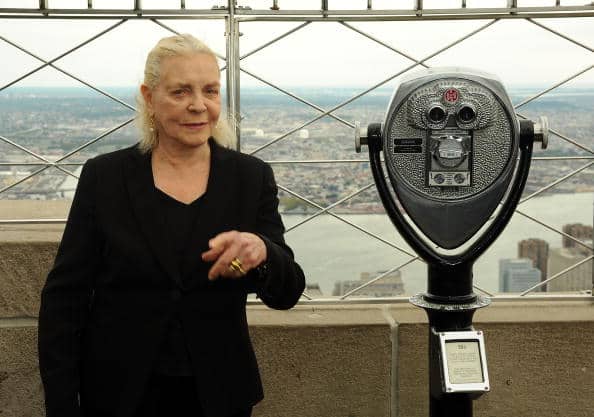 Legendary film actress Lauren Bacall has died after suffering a major stroke. She was 89 years old. The news was first reported by TMZ, via Twitter, and confirmed by the estate of her onetime husband Humphrey Bogart, who passed away over fifty years ago in 1957.
Lauren Bacall first captured audiences' attention when, at only the age of 19, she starred in 1944's To Have and Have Not opposite of Humphrey Bogart, playing the role of Marie "Slim" Browning.  The couple teamed up three more times on screen together in The Big Sleep, Dark Passage, and Key Largo.
Later in her career, Lauren Bacall earned several awards, including a Golden Globe and a SAG Award for her role in the 1996 film The Mirror Has Two Faces . Her performance also garnered her an Academy Award nomination. Other films that she starred in included How to Marry a Millionaire (alongside Marilyn Monroe and Betty Grable), Blood Alley (with co-star John Wayne), The Shootist, and even the infamous 1990 Stephen King thriller Misery. She was the recipient of an honorary Oscar in 2010, which celebrated her "central place in the Golden Age of motion pictures."
In addition to her many film roles, Bacall also found herself on television many different times throughout her career. She guest starred in both Chicago Hope and The Rockford Files and was a part of several different television movies, including a 1973 adaptation of the Broadway musical Applause. Bacall had won a Tony for her performance as Dr. Kildare in the musical and earned her first Emmy nomination for reprising the role. She would go on to be nominated for two more additional Emmys Awards.
Just this spring, Bacall voiced the character of Evelyn on Family Guy, and she had been rumored to be in a new movie called Trouble is My Business, which is currently filming now.
Here's one of my personal favorite Lauren Bacall scenes from To Have and Have Not. It's short, and she doesn't say much, but boy, she sure knew how to make an entrance. Enjoy.
[youtube http://www.youtube.com/watch?v=sVmdQontEs4]
Photo by Stephen Lovekin/Getty Images