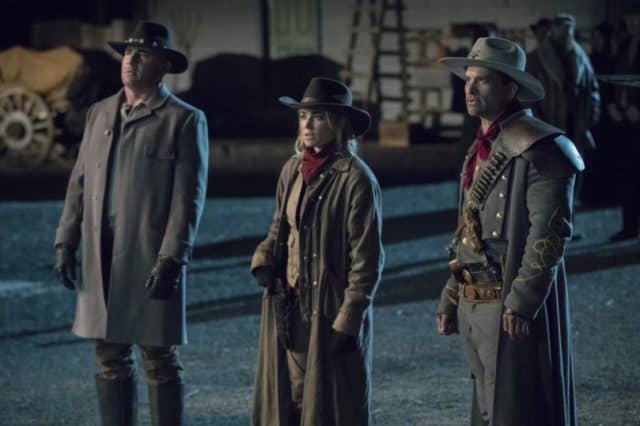 Okay, before I begin this review, I would like to do one thing: a happy dance. Why? Legends of Tomorrow is back for a fourth season! Ahem, now that we've gotten that out of the way, on to the review!
Tonight's third season finale feels like a regular episode than a finale. I mean, yes, the Legends finally defeated Mallus, but that only opened the door to more threats. Constantine even shows up right at the end of the hour telling the team that Mallus wasn't the only thing that got out.
It was nice to see some familiar faces in tonight's episode. Jax returns to help, and he has been busy since the last time we saw him. The other half of Firestorm is a husband and a father to a little girl named Martina. No doubt he named his daughter after Professor Stein. Helen of Troy, Jonah Hex and another version of Kuasa came to the Legend's aid as well. I'd quote Felicity and say "best team-up ever," but I don't want to get ahead of myself.
Meanwhile, Sara left Ray in charge, to an extent, of keeping an eye on Damien Darhk. The latter asked Ray if he's planning on doing something stupid despite Sara telling him not to. Judging by the look on Ray's face, of course, he's going to do something stupid. He's time-jumping back to the moment before Nora becomes Mallus and save her. Surprisingly, it worked. Though Damien ends up as Mallus' vessel instead of Nora, causing him to die in her place. A sacrifice that was not made in vain.
Speaking of sacrifices, Rip gave up his life to buy the Legends time to come up with a strategy to use against Mallus. I almost choked up watching the scene where Rip took the time drive on the Waverider and telling Gideon that he'll miss her. What got me was when Gideon called the former captain by his name and said she'll miss him too. Oh, the feels!
Back to the big battle, Sara and the rest of the Legends created a giant Beebo (thanks a lot, Nate!) to take on Mallus. It felt a tad awkward seeing a toy fight a time demon, but it was amusing nevertheless. Much like those cheesy kung-fu movies. It's even got the "bring it on" move that they're famous for.
In the end, Mallus is defeated, and the Legends can take a break and vacation in Aruba. Well, until they figure out what else escaped from time jail. Onward to season four!
Final Thoughts:
Gary does a decent impression of Constantine. However, I would lose the presidential wig if I were him.
Point of Confusion: Since when did Wally get his hands on the water totem? Did Ray give it to him?
Loved the scene where the Legends tried to create a creature to fight against Mallus. It's one of the reasons I love this show. Hearing everyone's thoughts while they combined their totems' powers were hilarious! Especially the part when Mick asked if they are making a baby. Good one, show!
Funny Moment #2: Nate getting high on vision quest tea again. So funny!
Funny Moment #3: Nate immediately pointing the finger at Sara when Constantine asked whose idea was it to unleash demons from their prisons.
Blackbeard is still the comedic fraidy-cat that he is despite being controlled by Mallus. Wow.
Zari has the hots for Jonah Hex. Color me intrigued.
Amaya leaves the Legends to go back home to Zambesi. Will she be back in season four? We'll have to wait and see.
Sweat-drop Moment: Sara delivers an inspiring speech pre-fight but then asks if there's a way to sneak out the back.
What did you think of tonight's finale? Comment below and share your thoughts! Photo via The CW
Legends of Tomorrow Season 3 Episode 18 Review: "The Good, the Bad and the Cuddly"
Summary
The plan to defeat Mallus by using the six elemental totems doesn't go as expected. Rip to improvises by sacrificing himself to buy time. The team then regroups in the Wild West, where they run into Jonah Hex. Sara leaves Ray in charge, sort of, of watching Damien Darhk in tonight's third season finale of Legends of Tomorrow.