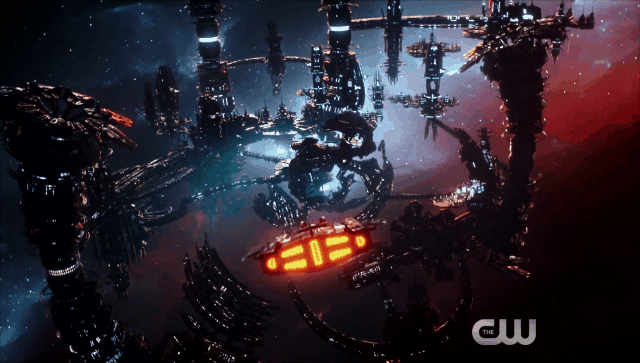 Recently, Legends of Tomorrow has been moving a lot faster than it usually does. It's all been working out better for the show. But now, the show has a unique opportunity. With our Legends trapped in the cells of the Vanishing Point, Legends of Tomorrow has the opportunity to orchestrate a prison break. With Vandal Savage on the move, the legends have to quickly break out and take the waverider back. What's stopping them? CHRONOS IS BACK! Yes, my prediction seems to have been spot on. Mick really couldn't be trusted. But he's really back for different reasons. You see, being back in the Vanishing Point is probably bringing back all the memories of his training. That is probably what makes him turn. Or maybe he really never left the Order of the Time Masters.
Whatever may be the case, there's no denying that he's back. The Time Masters and Chronos are all that stand between the Legends and The Waverider. But…despite the Legends always having the upper hand over the villains of the show, I still think that Rip will fail to save his family. As he puts it so elegantly, "Time wants to happen." It's about time he learned that. If Doctor Who can't save his companions, then by no means should his companion be able to save other people, if you know what I mean.
The title of the episode is "Destiny". And that's what the episode is really about. It's about the Legends taking back their destiny. Well, I think it only applies to Rip and Kendra. Apparently, Carter's supposed to recover in this episode. I think he should be killed off again. He's better that way. For some reason, Superhero Shows are terrible at handling romance. And I'd like us to take a break from the romance and get back to saving the world.
Oh, and speaking of romance, how can I not mention Snart and Sara kissing? Looks like we have that to look forward too. I'm actually quite happy since they have quite the chemisty. I would really love it if the show didn't mess that up.
https://www.youtube.com/watch?v=KLVKUmKbdS4
The synopsis for the episode titled "Destiny" reads:
CAPTURED — Being in the vicinity of the Time Masters leaves Rip (Arthur Darvill) and Rory (Dominic Purcell) incredibly disturbed for very different reasons.  Meanwhile, Sara (Caity Lotz) takes over the Waverider, Kendra (Ciara Renée) is reunited with Carter (guest star Falk Hentschel) and Snart (Wentworth Miller) decides he might be a hero after all.
Legends of Tomorrow airs Thursdays at 8/7c on The CW.