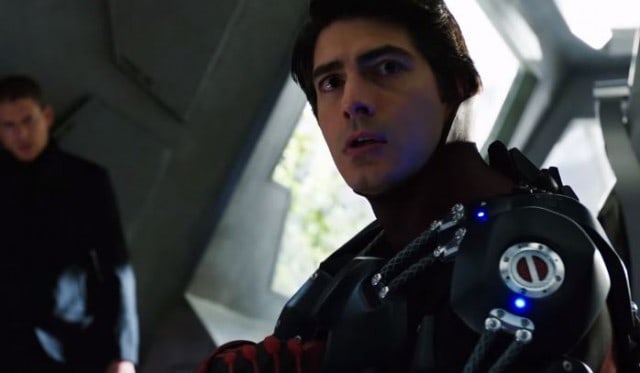 Ray Palmer is front and center in the latest promo for DC's Legends of Tomorrow. However, the most entertaining scene in the 30-second teaser may come when The Atom shares the screen with another one of DC TV's famous heroes: Green Arrow.
In the video below, we get a quick look at a conversation between Ray and Oliver, as the former tries to explain just what exactly he'll be doing with his new team.
"What do you know of this Captain Hunter?" Oliver asks him.
"Well, he's a Time Master from the 22nd century," Ray says. "It's a little hard to Google."
Also, similar to the other character-focused Legends of Tomorrow promos that have come out in recent weeks, this video provides Ray with plenty of monikers, calling him "maverick," "inventor," and "rebel," just to name a few. That last one, "rebel," is quite interesting; perhaps we'll see a more rebellious side to Ray in Legends. 
Legends of Tomorrow kicks off next Thursday, Jan 21, at 8 p.m. on The CW. Check out the new, Ray-centric promo below:
In DC'S LEGENDS OF TOMORROW, when heroes alone are not enough… the world needs legends. Having seen the future, one he will desperately try to prevent from happening, time-traveling rogue Rip Hunter is tasked with assembling a disparate group of both heroes and villains to confront an unstoppable threat – one in which not only the planet is at stake, but all of time itself. Can this ragtag team defeat an immortal threat unlike anything they have ever known?

DC'S LEGENDS OF TOMORROW stars Victor Garber ("The Flash," "Alias"), Brandon Routh ("Arrow," "Superman Returns"), Arthur Darvill ("Doctor Who"), Caity Lotz ("Arrow"), Ciara Renee ("Pippin"), and Franz Drameh ("Edge of Tomorrow"), with Dominic Purcell ("The Flash," "Prison Break") and Wentworth Miller ("The Flash," "Prison Break").
[Photo via YouTube]