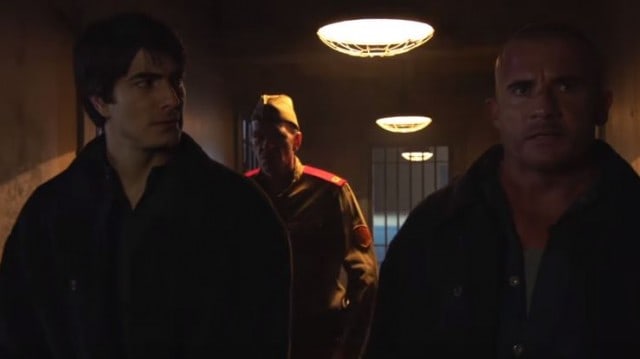 Things will not be easy for Ray, Mick, or Stein as all three of them are still captured in tonight's episode of Legends of Tomorrow. Despite the optimistic approach that Ray takes to prison life, wondering if he and Mick are VIPs and comparing the experience to "scout camp," the pair's time in prison will be anything but fun.
In the video below, which previews this week's all-new hour, titled "Fail-Safe," Mick shows Ray the harsh realities of prison, a place that he's been in more than a few times thanks to his work with Captain Cold. But this stay will be much worse than any of his previous ones, thanks to Vandal Savage, who plucks both men out of their cells and tortures them.
And Savage uses the horrible pain that both Ray and Mick suffer as leverage to try and get Stein to agree to work with his scientists on the Firestorm project. Will the professor allow his teammates to be continuously tortured, or will he give in to Savage's demands? It's an impossible decision, but he'll have to make it in tonight's episode.
Legends of Tomorrow airs Thursdays at 8 p.m. on The CW. Check out the sneak peek from "Fail-Safe" below:
THE TEAM ORCHESTRATES A PRISON BREAK — After some of the Legends are captured and thrown into a Russian gulag during the height of the Cold War of 1986, Snart (Wentworth Miller) leads the team in an elaborate escape plan to free their comrades. However, Rip (Arthur Darvill) gives Sara (Caity Lotz) a secret side mission that could prove not only to be a liability, but fatal to the team. Dermott Downs directed the episode written by Beth Schwartz & Grainne Godfree.
[Photo via YouTube]