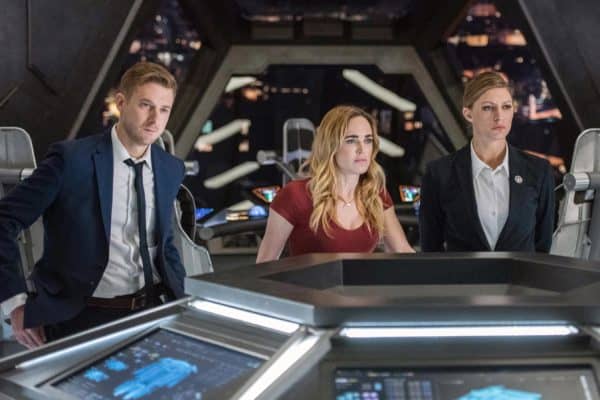 Family takes center stage as Damien Darhk shows his caring side as a loving father. Wally West finally decides to join Team Legends in this week's Legends of Tomorrow. That, and we get to see Damien Darhk fight against himself. The part where he says "I'm going to kick my ass" was brilliant. Someone get the popcorn!
It's somewhat refreshing, in a way, to see Darhk act like a caring father to Nora. I mean, yes, the man is evil, but even villains can be good parents. Although, he did send his only child into the arms of a powerful demon that even Constantine can't exorcise. I do, however, applaud his rescue attempt against his past self when the latter threw Nora off the roof.
Speaking of Nora, I still think that there is some good in her. Ray got through to her when he told her that torture is not the answer to everything. She even argued with her father which got a little heated. Never thought I'd see the day when I would see the Darhks have their first father/daughter fight. If they were an ordinary family living in the suburbs or wherever, Nora would storm upstairs to her room so fast; you'd think she's a speedster. Oh, loved the Indiana Jones reference by the way!
The mission of the week is to rescue Dr. Vogal from getting shot by past Damien Darhk. Ray and Nora almost succeeded in bringing the doctor across the border, but Daddy Darhk showed up. I rolled my eyes when Ray said to Nora "Your Dad's going to kill me! I'm supposed to have you home by now!". You do know that you're a kidnapped victim and not the first boyfriend of Nora Darhk, hmm, Ray Palmer?
Meanwhile, Zari and Amaya take a vision quest to track down the latter's totem. They find the paradise that Amaya had been to is empty and barren. The totem's guardian then appears, telling the two that darkness is corrupting Amaya's totem. The guardian also informed them that Mallus is beginning to break free from his prison. The fabric of Time is falling apart. If they do not fix it, Mallus will enter the real world. Yeah, not good.
Back to the mission, Dr. Vogal told Ray that the doll he had to get does not belong to his daughter, Greta. Instead, he says to him that it holds his formula for cold fusion. Way to be sneaky there, Dr. Vogal. Ray managed to get away with the equation when the rest of the Legends came to rescue him after he blasted a hole in the Berlin Wall. Wally also retrieved the Fire Totem from Damien Darhk unbeknownst to the latter. Yay, Kid Flash!
I am intrigued when Rip told Gideon to delete file 354-Z at the end of the episode. Is there something about Agent Sharpe that he doesn't want Sara to know? Rip said that Ava is special. Just how special is she? Also, does the new Director of the Time Bureau, appointed after the tragic death of Director Bennett, have skeletons in her closet that she is hiding from everyone? I must know!
Final Thoughts:
The scenes where Damien Darhk used the dead Upswipz employee and Ray to hold his therapy sessions is amusing. Maybe he should consider going to therapy on a regular basis. I'm sure that Dr. Martin can pencil him in if she's not too busy with Charlotte and the Devil.
Damien's yawn of boredom. #LOL.
I rolled my eyes again when Darhk said that he would be getting a totem as well after Ray fixes it. This is not an episode of Oprah, okay, Damien? It's not a "you get a car!" type of thing!
Wally taking Mick's Grateful Dead souvenier, aka Jerry Garcia's glasses and the death glare on Mick's face was highly amusing.
Agent Sharpe still can't get tickets to Hamilton. Wow.
Damien Darhk telling Nora that he is proud of her and sheds a tear. First time for everything.
Photo via The CW
Legends of Tomorrow Season 3 Episode 13 Review: "No Country for Old Dads"
Summary
Damien and Nora Darhk take Ray hostage and force him to try and fix the Fire Totem. Sara takes positive steps in her personal life in this week's episode of Legends of Tomorrow.