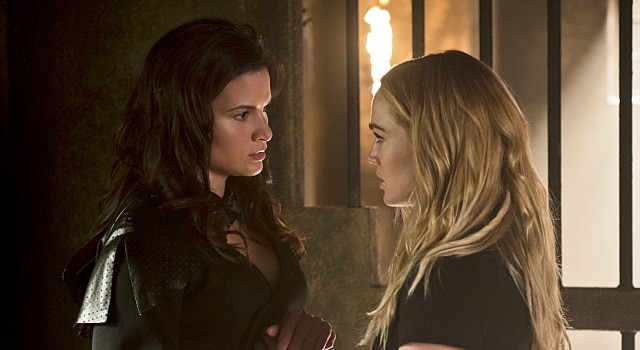 Legends of Tomorrow Season 1 Episode 14 Review: "River of Time"
Legends of Tomorrow has had its ups and downs in its first season and as we are getting closer towards the end of season one, this week's episode was a huge one for our group with Vandal Savage manipulating the heroes which in turn leads to him getting the upper hand.
While a lot of things went down this week which should have happened, it could have been handled a lot better because some of our characters weren't acting like themselves which is a frustrating thing sometimes. But before we get to that: let's talk the fun that was Vandal Savage. I can't recall the last time I saw a big villain being so darn comfortable being trapped where he was actually more powerful, by simply talking and messing with some of our characters' heads. Casper Crump having his banter with Arthur Darvill was one of my favorite moments of the episode because you could just see how much Rip wanted to punch that sucker over and over, but yet didn't.
It made total sense why Vandal had such an easy time messing with Ray's head and why it was Ray that in the end became the key for Vandal to get out of the case. But it still annoys me on every level that Ray, who has been established as one of the smartest characters on the show and knows that Vandal is immortal and dangerous, still behaved the way he did. It didn't help that what fueled his anger was his jealousy over Carter (who was still brainwashed) which just gave us an unnecessary triangle drama. It would have made more sense if someone like — not saying that these are less smarter characters – Mick, Sara or Rip had gotten so angry that they went into Vandal's case to fight him. But to have it be Ray, just feels like an insult to the character and what has been established.
Something that I really loved with "River of Time" was the multiple individual flashbacks that we got from most of the characters. I loved finally getting to see Jax's mom which Franz Drameh teased to us at WonderCon two months ago, learning a little more about his family background. As someone who loves Nyssa al Ghul, it was great to get a Sara/Nyssa flashback and a reminder of how great their love was. While I wasn't bothered by Stein's flashback with Carissa, for some reason it just didn't do anything for me. Although it could be due to the fact that Stein have had so many big moments this season that maybe it was just too much this week. We also see Ray flashing back to meeting Felicity during the time she was in a wheelchair which, while sweet, a little bit odd.
Obviously this must have happened when they were initially trying to get rid of Mick by going back to 2016 and I guess Rip must have just went "Hey, let's take a breather from that big mission of ours". If that was the case, it makes Rip not taking the mission as seriously as I thought he was because he has made such a big deal about this mission that I have a hard time seeing him just taking a break in the middle of it so Ray could go and leave a letter to Felicity. But….stranger things have happened so I'll digress.
It has to be said: Jax hasn't been given the best material in the first season and this episode is a reminder of that. He gets injured during the fixing of the Waverider which causes him to start rapidly aging so Stein decides, through his theories and understanding of time travel, send Jax back to 2016 which will reverse his condition. Stein is smart, he truly is, but sending Jax on a separate ship and assuming that it will get him home safe without any problem, was a huge risk which puts Stein in a similar light that Ray was in during this episode. Obviously Jax is going to be fine, but how could Stein be so certain?
Despite that they take Vandal down and deliver him to the Time Masters, Rip is astonished that the people that have made it quite clear that they have no interest in Vandal, lets him go and instead arrests Rip and Mick. I don't want to be too much of a party pooper, but seriously Rip, what the heck did you think was going to happen? It's really disappointing when you see so many great characters being written out of character and seeing how "River of Time" did it, was painful. While it will make their challenges next week intriguing as they will have to find a way to get out of this mess, it feels like they could have handled this better.
Overall, while "River of Time" had some good moments with all the flashbacks, Carter getting his memories back and Crump just being all sorts of fun as Vandal, this is without doubt one of the more disappointing episodes of Legends of Tomorrow. Luckily, we do have two more Legends of Tomorrow episodes so hopefully some of the mess that was made here will be cleaned up as much as possible.
Legends of Tomorrow airs on Thursday nights at 8/7c on The CW.
[Photo: Diyah Pera/The CW]
Summary
Vandal Savage gets an upper hand on our time traveling legends, despite being captured, in this week's episode of Legends of Tomorrow.