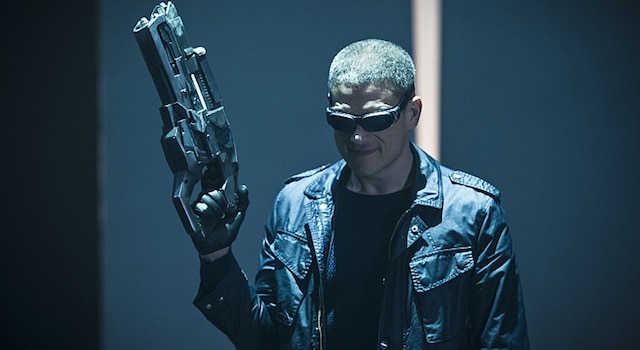 Legends of Tomorrow has had quite an interesting first season and as we get ready for the season one finale next week, this week's episode started bringing everything together with Rip and his team witnessing how truly messed up the Time Masters were.
I have had my issues with Rip as a character throughout the first season as he has had his strong and weak points in the first year. However, seeing how truly messed up these Time Masters are, I am pretty much Team Rip now because boy, these people are insanely twisted which I didn't see coming when first going into this show. Talk about being almost worse than Vandal Savage — I don't know who selected any of them to become Time Masters, but whoever did it, didn't do a good job because of how rogue they went. I'm really happy that they weren't able to brainwash Mick again into Chronos and that he totally tricked them big time. Even though he is a hot head, I like when he actually gets to outsmart people like them. Besides, I wasn't really up for another Cold Vs Chronos fight again so it was good that it was a double-play.
Let's talk about that Captain Cold death or more like "death" if you have been following the news over the past 24 hours. First off all, ever since FOX went ahead and ordered the Prison Break sequel series, I had always known that at some point this season of Legends of Tomorrow, we would lose Wentworth Miller and Dominic Purcell in some fashion. Also we are getting two new characters that will be series regulars on the cast next season which means two are going to have to leave or be demoted. Deadline announced right after the episode that Miller will not be returning to the show as a main cast member, but has signed a new deal to recur throughout all the DC TV shows on the CW.
But even before I read those news, the "death" was just so rushed and followed the classic trick of not showing the body that I didn't really buy that this was it for him. This is a time travel show after all that is also set in a universe where we explore the multiverse and besides, there is no way that they would ever kill off someone as essential as Snart due to his Flash status and his role on this show. Although, I was having literal flashbacks to when Miller's character on Prison Break sacrificed — or at this point, because of the upcoming sequel series, "sacrificed" – himself in the two-hour wrap up TV film. I did like the Sara/Snart kiss because that is a really neat relationship, even though I will always be a hardcore Sara/Nyssa fan.
I'm so glad that Jax got to have another really good episode this season as he was sent back to 2016 and pulled a Back to the Future II where Stein sees one Jax go until the one that just got back walks up to him. I just enjoyed seeing Jax in an initiating role where he isn't putting up with the crap anymore and just does what he wants. Hopefully, if Firestorm is around for Season 2, we will see this version of Jax a lot more rather than the one that always has to be rescued or being walked on because I need there to be some more equality between him and Stein. Overall, "Destiny" did a good job in setting up what looks to be a big finale for Legends of Tomorrow and let's just hope that Kendra gets out of Vandal's claws early next week!
Don't miss the highly anticipated season one finale of Legends of Tomorrow next Thursday, May 18 at 8/7c on The CW titled "Legendary".
[Photo: Cate Cameron/The CW]
Summary
Rip and his team goes up against the Time Masters, but at a big cost in this week's episode of Legends of Tomorrow.