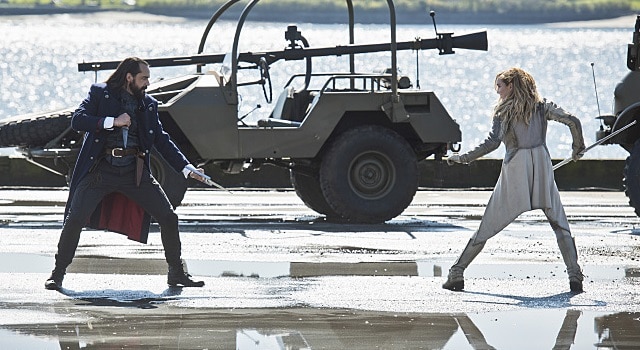 Legends of Tomorrow has had a long and interesting first season and tonight's season finale brought everything together as Rip Hunter and his legends go to war against Vandal Savage while also seeing up what is coming in the second season.
I'll admit that "Legendary" had some pacing issues as the whole build-up to fighting the three Vandals in the time periods even though everything we got in between was essential to the plot. I guess I'm just impatient sometimes and just want to see the action come on already. The thing that I was actually most moved by was Sara finally finding out the sad news that her big sister Laurel Lance a.k.a. the Black Canary had been murdered by Damien Darhk. It was nice seeing Paul Blackthorne getting to guest star for this episode and be the one to tell Sara the news rather than Rip telling her, especially as he had known this whole time that Laurel was going to die.
This was definitely one of Caity Lotz's strongest performances because while she kicks major butt physically, I have never been able to connect with Sara on an emotional level. This week however I got to do that and seeing the pain she had to go through, just pulled those heartstrings, although someone should have Sara and Quentin swing by Central City if they want to see a Laurel. For those not aware: just watch this week's episode of The Flash and you will get it. It just felt painful knowing that last week Sara lost (or as we know it, "lost)" Snart and now she has lost her sister whose heart was so big that she went out of her way to resurrect Sara last fall. Time travel is just unfair, isn't it? It's also complicated as heck, but that's the fun of it…I think.
Now let's talk about that giant ending that I'm pretty sure got tons of DC Comics fans (including myself) extremely excited. But before that, I do want to briefly touch upon the sad departure of the Hawks as it was revealed right after the finale that Ciara Renée will not be returning as a series regular for Season 2 of Legends of Tomorrow. While she was one of my favorites as well as understanding the producers that there were story challenges, it's still a huge bummer to see her go. I do hope to see them return in some capacity because maybe having her as well as Carter in smaller dosages can sever their characters better. It was also a bummer seeing the end of Vandal Savage, but I have appreciated the time that we got with Casper Crump in the role.
But, for the remainder of the team as they were getting ready to go onboard the Waverider, a second one arrives out of nowhere. Out of it steps Suits' Patrick Adams and we discover that he is none other than Rex Tyler a.k.a. the Hourman….member of the Justice Society of America! I don't know what the entire plan is, but I'm dying to see this universe's take on the JSA and how this will play into season 2 of Legends of Tomorrow. While the first season had its bumps, it also had a lot of upsides as it was finding itself and bringing in something like the JSA is a strong move. Overall, "Legendary" was a solid finale to a good first season that I feel will come back even stronger in its second year.
Legends of Tomorrow has been renewed for a second season and will return this fall on Thursday nights at 8/7c on The CW. What did yo think of the season finale of Legends of Tomorrow? Let us know in the comments below!
[Photo: The CW]
Summary
Rip Hunter and his time traveling legends have their final war with Vandal Savage in the season finale of Legends of Tomorrow.