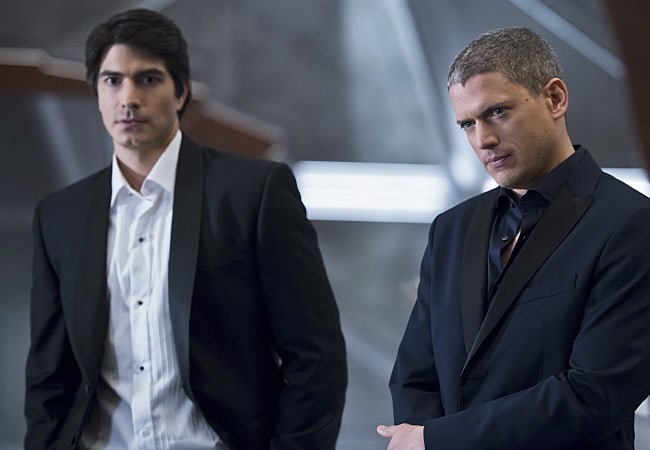 This week's episode of Legends of Tomorrow takes our heroes and villains to Soviet Union in the early 80's as they continue to try and stop Vandal Savage.
"White Knights" introduced a new problem for Hawkgirl that I didn't see coming at all that both makes sense, while at the same time is something that I'm not sure if I'll enjoy in the long run. Not only do we have Sara's blood lust issues, but now Kendra has this angry "inner hawk" to struggle with. I understand if this was a way to connect these two women, but at the same time, it feels like their problems are almost a bit too similar. I don't even recall Hawkgirl ever having a problem like this in the comics, but it wouldn't surprise me if the New 52/recent comics have introduced that element to her character. But at the same time, I can get behind this plot because maybe the way they can overcome their issues, is by dealing with it together. In addition, I did enjoy their training sequences, except for the fact that it got them distracted and unavailable to back-up their team members that got into trouble.
We also get introduced to two new baddies in "White Knights" with Valentina Vostok and Rip's mentor Zaman Druce who both got solid introductions that came with new obstacles for the team. The scene where Ray was trying to get close to Valentina was just hilarious because you think Valentina would have been at least a little impressed with the guy. But I guess she, like many of us, had a little soft spot for the resident bad boy with Cold being able to distract her which makes perfect sense – who can resist that slickness? She had a lot of confidence and has this mysterious feel to her where you don't know what this villain can do which makes me more pumped for next week. Zaman however was almost a little too obvious, the minute they were being attacked again by Chronos, but I'm open to see more of him as we go forward.
While there are a lot of highlights for all the actors this week, Victor Garber stole the show without doubt as Stein and Jax continue to have their massive arguments that goes to a new level this week. One of my favorite scenes was when they were screaming their lungs out at each other and we see that Jax has in many ways become a son to Stein who is just giving him some tough love. I also appreciated Stein referencing Ronnie and how his death is still haunting him, hence why he doesn't want anything to happen to the new half of Firestorm. Garber has been terrific since his first episode on The Flash, but his performance here made me love this character more than I already did. While I wasn't expecting this episode to act as a two-parter, it will be intriguing to see how Stein handles this situation next week as he among several of his allies are now prisoners of Valentina.
Legends of Tomorrow airs on Thursday nights, 8/7c on The CW.
[Photo: Diyah Pera/The CW]
Legends of Tomorrow Season 1 Episode 4 Review:
Summary
Rip and his Legends travel to the early 1980s as they continue their quest to stop Vandal Savage in this week's episode of Legends of Tomorrow.