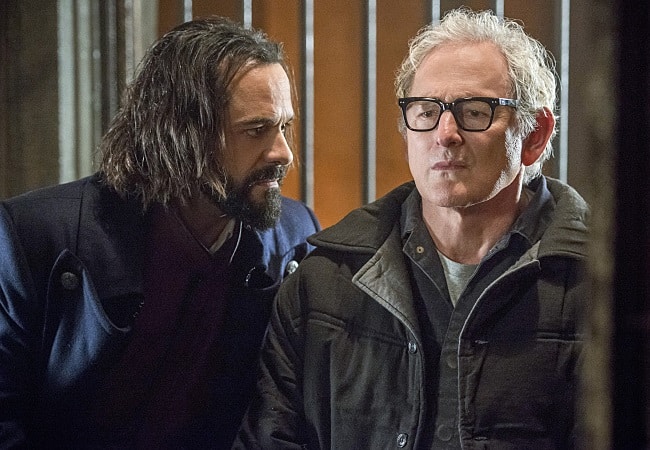 After Stein, Ray and Heatwave got captured last week, this week's Legends of Tomorrow picks up right where we left off as Rip and the rest of the team have to try and save them. But things get complicated when they learn further about Valentina's plans to create her own Firestorm.
I can't help, but admit that I had a big smile on my face throughout the whole episode because of the Prison Break nods that this episode had. There weren't many of them, and it's not like they were big either, but just seeing Wentworth Miller and Dominic Purcell in that environment again, made the Prison Break fan within me quite happy. Purcell has shined a lot so far on this show as the comic relief character, but this week we actually got to go a little deeper in Heatwave which was appreciative. His interaction with Ray throughout the episode makes me appreciate again that we can get all sorts of combinations of character dynamics on this show.
The Cisco-cameo (ish?) didn't do much for me as it wasn't what I was expecting as I was hoping that maybe we'd be seeing a future version of him, not as an evil illusion. What I did dig though was more Vandal Savage who keeps getting more fun for each episode. Even though we have seen how terrifying Damien Darhk is on Arrow, Vandal is scary in a whole different way. Just when he is witty and calm, like he was a lot with Stein, he is scary because you know that at any point, he can snap and unleash hell on you. I was also more impressed with Valentina this week who, like Vandal, was a very fun villain. I wasn't expecting her merging with Stein to become Firestorm, but it was a pleasant surprise, definitely better than "Deathstorm" on The Flash in Earth-2. Sadly, her time was up by the end of the episode, but it was great while it lasted. This whole experience brought Stein and Jax closer which was one of my favorite aspects of the episode.
Just like this week's The Flash and Arrow, the last 5 minutes of this week's episode of Legends of Tomorrow got crazy. As they accomplished their mission, they are followed by Chronos again in the time stream and start to attack them. This causes the Waverider to have to time-crash (let's go with that term) and where do they land? Star City…in 2046! We are given a glimpse of the dark future that is coming, which we'll see in next week's episode. However, we do finally meet someone that I've been waiting to show up since it was announced and that is Connor Hawke, the Green Arrow of the future. While it was quick, I was relieved to see that the actor was an African-American as a tiny part of me had started to think that they had changed his ethnicity despite what the initial casting breakdown said. That final moment was a solid ending to a very strong episode and now more than ever am I excited to see what Star City 2046 has in store for all of us.
Legends of Tomorrow airs Thursday nights, 8/7c on The CW.
[Photo: Diyah Pera/The CW]
Legends of Tomorrow Season 1 Episode 5 Review:
Summery
In this week's episode of Legends of Tomorrow, Rip and the rest of the team has to save Stein, Ray and Heatwave after the events of last week's episode.