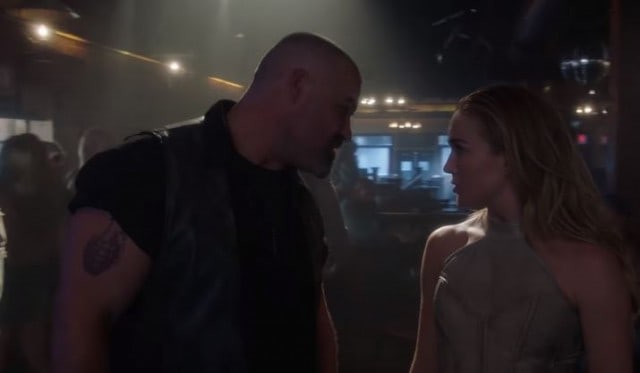 If you've ever seen Arrow before, you know that Sara Lance is not a person that you want to pick a fight with. Unfortunately for this guy in this clip from DC's Legends of Tomorrow, he's never heard of Sara before, so it's no surprise what happens to him after he's a little too aggressive with the White Canary.
In the video below, Sara, Captain Cold, and Heat Wave end up in a bar in the 1970s, with Sara loving the music and dancing around, enjoying herself, while her two teammates relax with their beers. However, after the aforementioned guy doesn't take too kindly to Sara rebuffing his his advances (she even hits on the girl that's with him, saying that she's more of her type), all hell breaks loose, with three of the team's wildest members participating in one massive barroom brawl.
DC's Legends of Tomorrow kicks off on Thursday, Jan. 21, at 8 p.m. on The CW. Check out the new sneak peek below, along with The CW's full description of the series.
In DC'S LEGENDS OF TOMORROW, when heroes alone are not enough… the world needs legends. Having seen the future, one he will desperately try to prevent from happening, time-traveling rogue Rip Hunter is tasked with assembling a disparate group of both heroes and villains to confront an unstoppable threat – one in which not only the planet is at stake, but all of time itself. Can this ragtag team defeat an immortal threat unlike anything they have ever known?

DC'S LEGENDS OF TOMORROW stars Victor Garber ("The Flash," "Alias"), Brandon Routh ("Arrow," "Superman Returns"), Arthur Darvill ("Doctor Who"), Caity Lotz ("Arrow"), Ciara Renee ("Pippin"), and Franz Drameh ("Edge of Tomorrow"), with Dominic Purcell ("The Flash," "Prison Break") and Wentworth Miller ("The Flash," "Prison Break").
[Photo via YouTube]