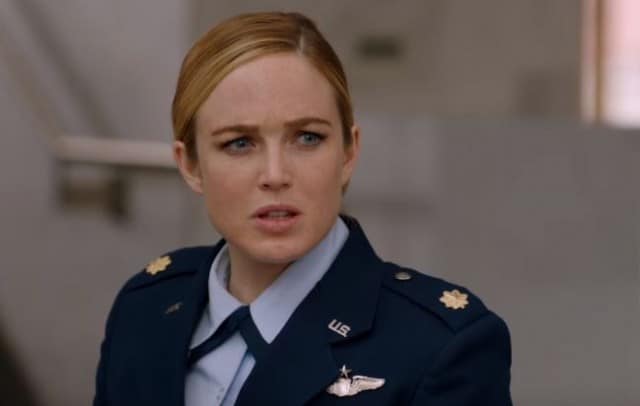 The team on Legends of Tomorrow is made of heroes and villains, but do any of of them know how to be spies? Because it looks like they're going to have to learn how to be ones, as tonight's episode of the CW series seems more like a James Bond film than a superhero show.
As explained by executive producer Phil Klemmer in the sneak peek below (which is essentially scored by the James Bond theme music), the team travels back to the 1980s, during the height of the Cold War, in tonight's all-new hour, titled "White Knights." Their mission is to break into the Pentagon, and while that seems doable at first, Kendra's erratic behavior complicates matters, causing the mission to go sideways and ticking off Sara in the process.
"Everything would have been fine if Big Bird over here hadn't freaked out," Sara says.
However, even worse than the team's mission at the Pentagon failing is that their interference during the 1980s may end up changing the outcome of the Cold War. What did they do that caused history to change, and how can they reverse it? We'll have to see how it all unfolds tonight.
Legends of Tomorrow airs Thursdays at 8 p.m. on The CW. Check out the sneak peek of "White Knights" below:
STEPHANIE CORNELIUSSEN ("MR. ROBOT") GUEST STARS AS VALENTINA VOSTOCK — When Vandal Savage (guest star Casper Crump) retreats behind the Iron Curtain in the early 1980s, a string of nuclear scientists begins to mysteriously disappear. The team follows Vandal's trail straight into the heart of the Soviet Union in an attempt to find his next target. Ray (Brandon Routh) tries to bond with a beautiful Soviet scientist, Valentina Vostock (guest star Stephanie Corneliussen), in the hopes of finding out Vandal's next move. When Valentina rejects him, it's Snart (Wentworth Miller) to the rescue. Stein (Victor Garber) pushes Jax (Franz Drameh) to be better, which frustrates Jax and ultimately threatens the Firestorm matrix. Rip (Arthur Darvill) asks Sara (Caity Lotz) to train Kendra (Ciara Renée). Antonio Negret directed the episode written by Sarah Nicole Jones & Phil Klemmer.
[Photo via YouTube]