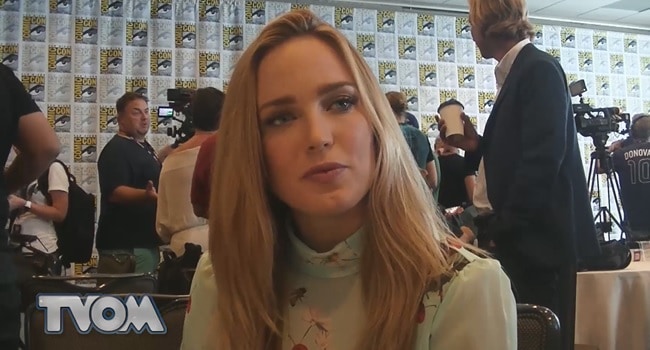 Last season on DC Television, we saw the launch of Legends of Tomorrow, which focuses on several fan-favorites of The Flash and Arrow as well as new DC Comics characters as they work with Rip Hunter (Arthur Darvill) to help save the world, through time travel. The end of the 1st season featured the arrival of Rex Tyler a.k.a. Hourman (Patrick Adams) who is from the Justice Society of America which will be a big focus in Season 2. The show will also be taking part of the 4-show crossover between The Flash, Supergirl and Arrow.
At this year's San Diego Comic-Con, TV Overmind participated in the Legends of Tomorrow Press Room with several outlets to chat with the cast and crew behind the show to get some insight into what is coming in Season 2. Caity Lotz, who plays Sara Lance a.k.a. the White Canary, was one of the great talents we spoke with as she teased what's happening in the 2nd season and what's coming up for our time traveling legends.
Highlights of the interview:
-How Sara is going to react to something like the Justice Society of America.
-Whether we'll be seeing Katie Cassidy on Legends of Tomorrow (this was asked before the big announcement of her new contract) and if Sara will still be dealing with her death.
-The intense fighting scenes and choreography that she works with on the show for her character.
-Developing the relationship with Wentworth Miller's Leonard Snart a.k.a. Captain Cold.
-How Sara would react to seeing an evil version of her dead sister (Earth-2 Laurel Lance, the Black Siren) and who would win in a fight between the two.
–Arrow's Stephen Amell crashes the interview and asks Lotz a couple of questions regarding Oliver and Sara's history.
[youtube https://www.youtube.com/watch?v=g0vq4_UL-Ug]
Legends of Tomorrow Season 2 begins on Thursday, October 13 at 8/7c on The CW. What are you most excited about the 2nd season of Legends of Tomorrow? Stay tuned for more roundtable videos of the cast and producers in the next few days right here at TVOvermind. Are you looking forward to see the arrival of the Justice Society of America? Let us know in the comments below.
Make sure to check out our other Legends Of Tomorrow round tables from San Diego Comic-Con as well: Marc Guggenheim (Executive Producer/Show-Runner) — Phil Klemmer (Executive Producer/Show-Runner) — Victor Garber (Martin Stein) — Dominic Purcell (Heatwave).
[Photos via YouTube]