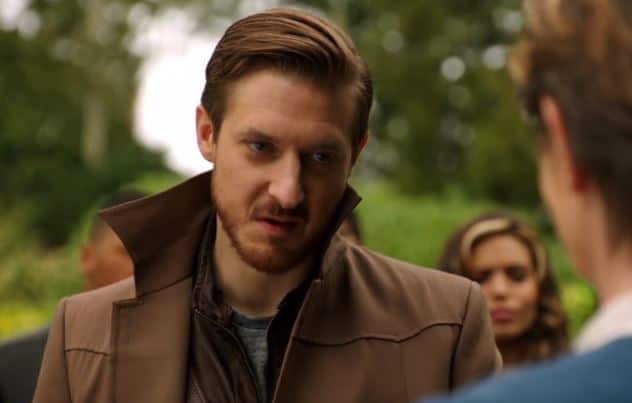 The Legends of Tomorrow must head to the past to save their futures in tonight's new episode, and in the process, they'll learn a lot more about their captain, Rip Hunter. How does that happen? Because they travel to the orphanage where Rip was raised and even meet his mom.
In this week's all-new hour of Legends of Tomorrow, titled "Last Refuge," Sara, Snart, and the rest of the team try to protect their past selves from being killed by The Pilgrim, a deadly assassin whose only mission is to erase them all from the timeline. In order to ensure that there's virtually no way for The Pilgrim to get to them, the team members kidnap themselves as infants.
However, they soon realize that they need a place to take care of all the babies, since singing lullabies and changing diapers aren't exactly skills that they all possess. That's when Rip brings them to the orphanage he grew up in, providing the babies with a (hopefully) safe place to stay until the team can find a way to stop The Pilgrim.
Legends of Tomorrow airs Thursdays at 8 p.m. on The CW. Check out two sneak peeks from "Last Refuge" below:
RIP'S BACKSTORY IS REVEALED — The team is targeted by The Pilgrim (guest star Faye Kingslee), a deadly assassin who wants to erase the Legends from the timeline by killing their younger, non-superhero selves. As a protective countermeasure, Rip (Arthur Darvill) decides Sara (Caity Lotz), Snart (Wentworth Miller), Rory (Dominic Purcell), Professor Stein (Victor Garber) and Jax (Franz Drameh) need to kidnap their past selves first before The Pilgrim gets to them. Coming face-to-face with the younger versions of themselves proves to be both a physical and emotional challenge for certain members of the team who would rather forget their past. Rip tells them he has a refuge for their precious cargo — an orphanage that raises future Time Masters and where he himself grew up. Rachel Talalay directed the episode written by Chris Fedak & Matthew Maala.
[Photo via YouTube]