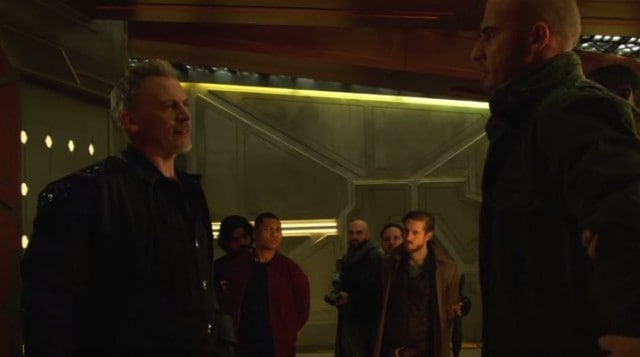 Legends of Tomorrow isn't traveling back to the past or heading to the future in tonight's episode. Instead, in this week's all-new hour, titled "Marooned," the team will be going into deep space and find themselves battling with a group of time pirates. That's right, you heard me: time pirates.
In the sneak peek below, we learn that Rip and the rest of the group travel to space to help another time ship that has been emitting a distress signal. So what makes this ship so special that Rip would go all this way to try and help its crew? Well, it's the same ship that he and his wife were stationed on when they fell in love, and we'll be seeing flashbacks to their time together on it during "Marooned."
Additionally, after a few members of the team are captured by the time pirates, an unlikely hero will emerge to try and save them: Professor Stein. Apparently, Victor Garber become an action star in tonight's Legends of Tomorrow, and I can't wait to see it.
Legends of Tomorrow airs Thursdays at 8 p.m. on The CW. Check out the sneak peek at "Marooned" below:
PIRATE ATTACK — After receiving a distress call from another timeship stranded in space, Rip (Arthur Darvill) decides to answer the call in order to use the other ship's computer to track Savage (guest star Casper Crump). The team is suspicious and warns him this could be a trap but he moves forward with his plan. Ultimately, the team was right and they have to battle time pirates. With most of the team captured, it is up to Professor Stein (Victor Garber) to rescue them all. Gregory Smith directed the episode written by Anderson Mackenzie & Phil Klemmer.
[Photo via YouTube]