While everyone is super thrilled that Leonardo DiCaprio won best actor last night at the 2016 Golden Globe awards, that's most certainly not what's getting attention today. DiCaprio is getting much deserved attention, only it's not for his award win. It's for his absolutely hilarious teenager-like reaction to a moment involving Lady Gaga. Gaga was on her way down to the stage to accept an award and had absolutely no clue that she was about to run into DiCaprio's arm.
Perhaps she was dazed at the win and wasn't paying attention but she ran into him as if to give him a little shove. What resulted was Leonardo making an incredibly funny face. It reminded me of some high school kid who felt embarrassed but also was joking to his friends as the hot girl walked by and he didn't mean to accidentally touch her butt.
The funny thing is that the Revenant star was actually asked about the incident after the show because he had no clue the moment went viral. DiCaprio said it was 100% not intentional and that he had zero clue that the moment was getting so much buzz on the internet. Below you'll see a better view.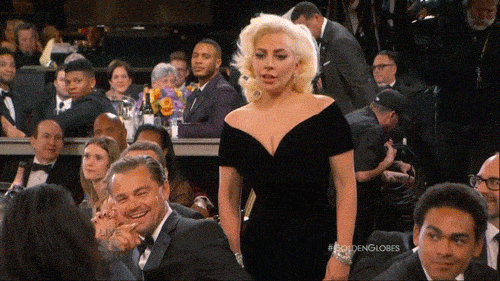 OK seriously, how awesome is this??