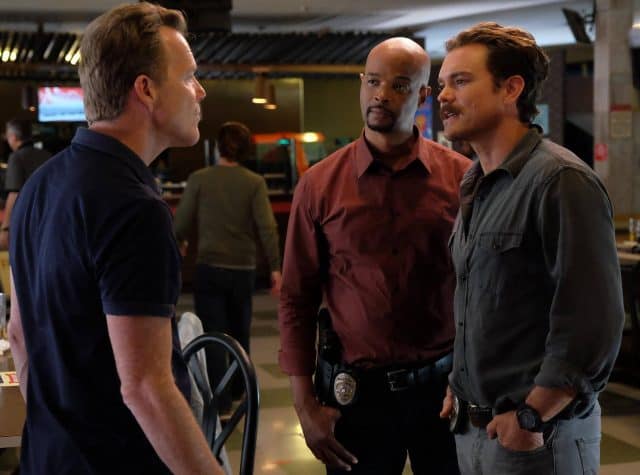 Riggs and Murtaugh face off against corrupt cops and fight to do what's right in this week's action packed episode of Lethal Weapon.

When a Texas Ranger Mark Ervin is killed while transporting a prisoner, Riggs and Murtaugh investigate his death and the case hits close to home for Riggs. Â They learn when Ervin's boss arrives from Texas that the person he was transporting, Wade Davies, had money. Â 
This leads Riggs and Murtaugh to figure out that it was a professional hit and an inside job within the LAPD Sheriffs Department.  Bailey and Cruz go to the Sheriff's Department to find out who signed Wade Davies over to the Texas Rangers and are told they need to talk to Leila Jones.   When Riggs and  Murtaugh go to the bowling alley to speak with Leila about who else saw the transport route, she says that it is dangerous to talk to The LAPD about one of their own, and someone's dog was shot because they talked to the LAPD, but reluctantly gave them the name anyway.  Jeffrey Veld, the same person who shot the dog.  Things escalate quickly between them and the Sheriff's Department when one of the sheriff's accuses Murtaugh of not actually bowling a perfect game which causes a fight to break out.

Later that day Captain Avery meets with the head of the Sheriff's Department, David Reed, (Played by Malcolm Jamal Warner) who blackmails him by saying that if Avery does not tell Riggs and Murtaugh to back off, he will expose the fact that Avery planted evidence to get a criminal put away back when he was partnered with Murtaugh. Â Knowing that he may need a lawyer Avery secretly asks Trish for help.

Later on back at the station, Scorsese tells Riggs and Murtaugh the same gun that killed Mark Ervin also killed the dog that Leila said Veld shot. Â When Riggs and Murtaugh get to Veld's house they out find that Davies is there. Â Davies escapes and ends up being shot and killed by Deputy Luke Barton, one of the sheriff's Riggs and Murtaugh met earlier in the episode, but he also saves Riggs life by killing Veld before he can kill Riggs.

When Riggs finds Avery alone in his office drinking scotch, Avery tells him how he planted evidence to keep a criminal from going free and that David Reed is blackmailing him to get him to back off of the case. Â Riggs tells him that he needs to tell Murtaugh what's going on. Â Avery goes to Murtaugh's house and against Trish's advice as his lawyer, tells Murtaugh everything (which makes Murtaugh understandably angry) and says he's going to resign.


Meanwhile, Riggs sits outside deputy Barton's house after he threatened Trish earlier in the episode. Â ( I really like this scene because it shows how much of a family the Murtaugh's are to him and how much he cares about them.) Â The next morning Riggs breaks into Barton's house to retrieve the bullets he thinks killed Ranger Ervin. Â Bailey proves that he's right when she figures out that Luke Barton's charity purchased the ammo and assault rifle that killed Ranger Ervin and she also found proof that Wade Davies paid Barton to break him out of custody.

Riggs and Murtaugh become concerned when Captain Avery is nowhere to be found and ask Bailey to track him. Â They find out he's at a restaurant with David Reed but when Murtaugh gets there he's gone. Â When the waitress tells Murtaugh that he ordered apple juice, Reed figures out that Avery only pretended to be drunk so that he could get his confession, but the recording gets destroyed when Barton kidnaps Captain Avery. Â 
When Murtaugh realizes how much danger Avery is in he calls Riggs.  Bailey tracks him down at Peter Scarelli's house, who is the man he framed for Murder, but before Peter Scarelli can kill him, Riggs drives through the house and him and Murtaugh save Avery.  While Murtaugh unties Avery, Riggs chases deputy Barton outside and gets into a fight with him, then arrested him.  At the end of the episode Ranger Ervin's boss thanks Riggs for all his help and tells him to keep the flask he found at the crime scene.  Murtaugh tells Avery not to resign.  Lastly, Murtaugh goes back to the bowling alley to prove to the sheriffs he can bowl  a perfect game, but admits to Riggs he actually only bowled a 290 the first time around.  Riggs tells him he can do it and that he has to bowl a perfect game because Riggs doesn't have the money to pay for the bet they made.  After his talk with Riggs Murtaughs first throw is a strike. ( I like to think he had a perfect game.)


Lethal Weapon Season 1 Episode 11 Review "Lawmen"
Summary
Riggs and Murtaugh face off against corrupt cops and fight to do what's right in this week's action packed and excellent episode of Lethal Weapon.