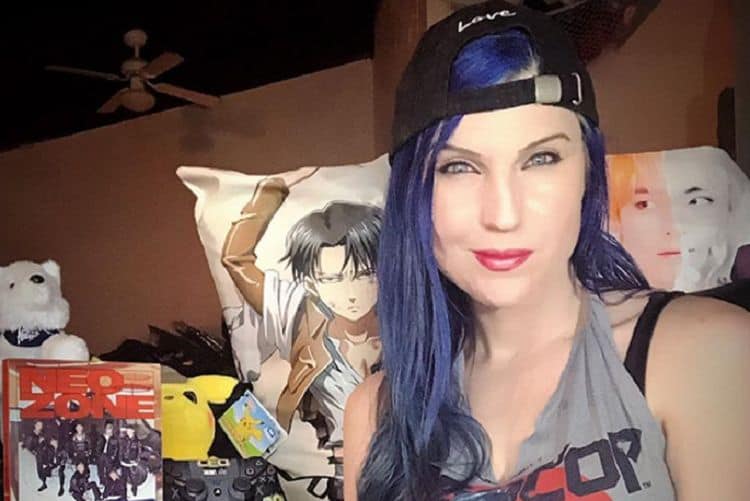 Leva Bates is a famous wrestler who distinguishes herself through cosplay. She has always loved make-believe and described herself as geek. She takes her costumes seriously and while some can take a day to come together, others takes as long as two weeks. Although her popularity grew though the stage name "Blue Pants" on WWE, currently, she is "The Librarian" on AEW. She is shooting for stars and diversifying her talents; from wrestling, to acting, and hosting shows. Let's share what we have learned so far about the wrestler through the facts detailed below.
1. She got to be on WWE using the old-fashioned way
Forget the belief that nowadays you must have friends in high places for you to secure a job or even a mere interview. Sometimes, things work out using the old-fashioned way such as submitting an application letter. In the case of Leva, she had always heard WWE telling those interested in joining them to fill out the recruit page, so she followed their advice. Much to her surprise, they called her back asking if she would be interested in an NXT wrestling match and Leva seized the opportunity.
2. How she came to be known as "Blue Pants."
Much thought goes into the stage name because every performer wants to be taken seriously, but Leva did not yet have an appropriate name as she waited to get in the ring with Carmella. However, she had put on blue pants waiting to get the ideal costume for going on stage. So as Enzo and Cassady wondered how best to introduce her, they joked that they should call her out "the girl in blue pants." Leva heard and found it hilarious, so she went with it.
3. WWE helped her accomplish several dreams
Nothing lasts forever, and Leva is afraid that one day she will wake up, and fans will no longer be calling out her name. Still, even if it does happen and she fades into obscurity, the wrestler will be happy that she got to live several of her dreams. As she told Uproxx, Leva had the opportunity to wrestle for WWE. Moreover, she performed for a large crowd and best of all, she won.
4. She beat thousands of contestants to be "The Librarian."
Tony Khan, the AEW president, had noted that they have never had a librarian character in the history of professional wrestling, therefore, saw it as an opportunity to set AEW apart from other promotions. Consequently, in March 2019, All Elite Wrestling (AEW) put out a casting call open to both female and male wrestlers asking them to send 60-second audition videos. They received so many video auditions that Cody Rhodes suggested that a battle royale might be the only way to get the ideal candidate. Eventually, Leva Bates and Peter Avalon were selected.
5. She thinks Aiden English is a scoundrel
It is when you are in the rain that you will found out who will hold an umbrella for you and Leva learned that the hard way. She met English, and instantly they became such good friends that she helped him and his partner win the tag team titles at TakeOver. Thinking she had found a friend, Leva called English to inform him of what had happened during NXT. Unfortunately, he did not pick up and weeks passed without him ever calling or texting back. At the time, Leva said she was being beaten by monsters but realized English had gotten what he needed from her and ghosted her. Therefore she described him to Wrestling Inc. as a scoundrel.
6. Her workout routine
The wrestler does not work out every day since her body requires rest, but she does not allow herself a lot of rest between days. She focuses more on exercises that will enhance her buttocks, therefore, does squats and any other that targets the glutes. That does not mean she neglects the rest of her body; Leva alternates working the top and bottom parts thus if one day she focuses on the shoulders, the next day she will work on her legs, and then her arms and so on. She however tries to exercise her legs at least twice per week.
7. Her diet
Maintaining her muscle mass demands a high-protein diet; therefore, Leva eats lots of proteins and prefers meals by Nutrition Solutions which she was introduced to by Mia Yim. Whenever she wants to have a cheat day, then she eats Clean Cheatz, which are high-protein, low-carb donuts; they come in handy when she is not in the mood for chicken. Since she takes a lot of protein, Leva does not get enough vitamins, thus relies on supplements to get her daily intake. Her limit is, however, 2000 calories or less per day.
8. She is a true friend
Besides the unfortunate incident in which she was a loyal friend to English, but he ghosted her in return, her nature has not changed. When you have Leva in your corner, she will never let you down as indicated in a Twitter post in which she was advertising her best friend's work. As per the post, her friend, whom she mentioned in the tweet, is a skilled makeup artist and Leva wanted to share her fantastic work with the public.
9. She temporarily stopped watching wrestling in her teenage years
Leva loved watching wrestling even in her childhood but had never aspired to become a wrestler. However, when she was a teenager, she thought it would not be "cool" to watch wrestling, so she stopped. Unfortunately, you cannot get rid of your passion that easily; consequently, after a while, she did not care any more about what others thought and began watching it again.
10. How she started wrestling
Leva majored in theater hence she hopes to become a renowned actress some today. She can dance and do stunts; thus, when TNA was filming at Universal Studios, she was also there working. Therefore Leva spent most of her time watching and ended up making friends from TNA. Since she told them that she could dance and do stunts, they encouraged her to become a wrestler too. However, she did not know how to go about it, so they told her to join a school to perfect her wrestling skills. That day, they took her to Team 3D Academy, and she signed up.