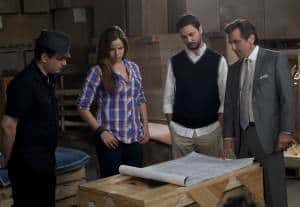 Uber-Geek Wil Wheaton pops up in tonight's new episode of Leverage titled "The Two Live Crew Job" where the team is forced to go head to head against another crew of thieves in order to retrieve their clients' priceless artwork. All of the crew comes up against their evil counterparts from the other team in a good vs. evil episode that has Wil Wheaton as the bad hacker, Chaos.
But will we see Chaos popup to go head to head with Hardison again in the future?
"If the opportunity were to arise, the amount of time that it would take for me to say yes would be directly related to how long it took me to open up my email and type three letters." Wil Wheaton recently told reporters.
He also commented on his nemesis in the episode, Hardison's (Aldis Hodge) self-professed love of Star Trek, saying, "Hardison makes Star Trek jokes all the time and nobody gets them. It just happened to be a cool bit of additional meta-humor that I get to be the guy they call Kobayashi Maru–which, I gotta tell you, kind of made me feel cool for about five minutes."
Catch a sneak peak of the episode below. Leverage, "The Two Live Crew Job" airs tonight at 9 pm (ET) on TNT.
Source: E! Online