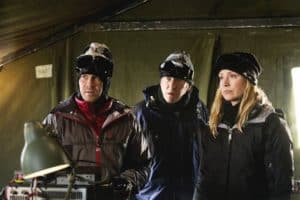 The TNT hit series, Leverage, will be returning for its fourth season on Sunday, June 29 at 9:00 p.m. Timothy Hutton, Gina Bellman, Christian Kane, Beth Riesgraf and Aldis Hodge are all returning as the group of thieves for ten all new episodes in season 4.
Season 4 of Leverage will open with the team heading to the Alaskan mountains. While there, they'll try to help a woman whose husband has disappeared. They'll also get to experience the harsh terrain of Alaska.
You may remember that prior to taking on this job, the team was actually laying low after Nate was blackmailed by an Italian agent who wanted him to find a nefarious financier, which they did. Nate's more determined than ever to hunt down the bad guys, but he's very reluctant to deal with the situation between him and Sophie after they slept together.
According to TNT, season 4 of Leverage will have the team facing their biggest challenges yet. Nate will continue to struggle internally and they'll all have to face the moral ambiguity of their chosen path. Future jobs will include targeting a PR expert (guest star Michael Gladis) who protects his clients by destroying the lives of anyone who gets in their way; a millionaire who uses his money to move himself up the heart-transplant waiting list; a woman who uses a funeral scam to profit from grief; a big corporation out to bury potato farmers; and a group trying to kill a World War II veteran (guest star Danny Glover) who allegedly has a very rare Van Gogh painting.
The team will again face Jim Sterling (guest star Mark Sheppard), the insurance-investigator-turned-InterPOL-agent. They'll also learn that someone is spying on them and their activities, but the reason why will remain a mystery.
Below are three sneak peeks for the fourth season of Leverage. The final video is a behind the scenes look at the creation of a great new promo (a sort of "frozen movement piece").
Don't miss the season premiere of Leverage, airing June 26 on TNT.
clarissa @ tvovermind.com
twitter.com/clarissa373
twitter.com/tvovermind