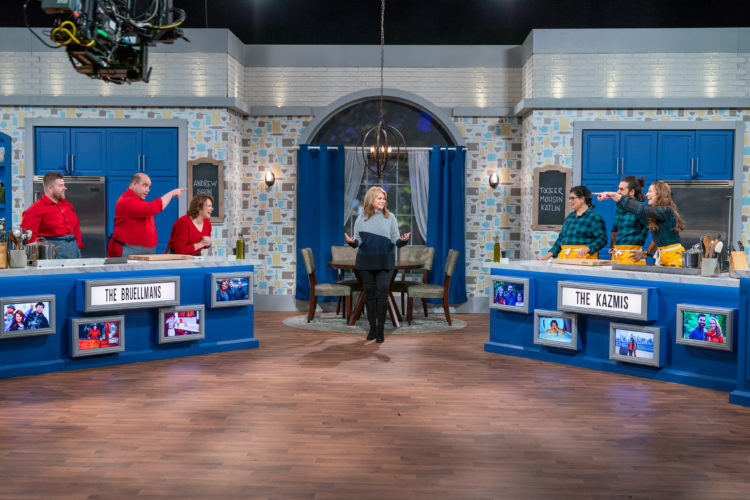 Food can bring a family closer. Our favorite family recipes can spark wonderful memories of making a meal together and sitting around the table enjoying delicious homemade food and having good conversations. The Food Network developed a new realty show that families can watch together, "Family Food Showdown."  The show premiered March 3, 2019 Each episode features two families competing for the $10,000 grand prize. Host Valerie Bertinelli brings fun and wholesomeness to the show which features a rotating panel of judges. Each episode features a different theme as the family teammates prepare their meal. While the show serves up challenges that create drama between family members and the competing families, it is all in good fun. "Family Food Showdown" is a great television show for the whole family to enjoy watching and also teaches some life lessons.
Here are 10 life lessons that the show "Family Food Showdown" teaches us.
1. Spark family discussions
"Family Food Showdown" is a great show for the whole family to enjoy. It can also help spark family discussions. Watching the show is a good way to talk with your kids about their favorite meals and also a time to discuss trying new foods. The show also demonstrates some interesting family dynamics which your family might relate to.
2. Families that cook together stay together
One lesson that "Family Food Showdown" reminds us of is that cooking together as a family is a great way to bond. Working together in the kitchen encourages good nutrition, responsibility and bonding. Working together as a team and sharing the responsibilities of creating a meal together will help family members bond. "Family Food Showdown" reminds us of how important it is for families to prepare meals together.
3. Families that eat together are healthy
Research has shown that families who eat together are healthier emotionally and physically. According to GoodNet, sitting down regularly to a meal together helps families bond. It also encourages family members to eat healthier foods, learn portion control, encourages trying new foods. Families who watch "Family Food Showdown" together will be encouraged to eat meals together more often improving the families eating habits and creating healthy relationships.
4. Share recipes and culture
"Family Food Showdown" is all about sharing different cultures which is a great opportunity to encourage your family to try new foods and be proud of their own heritage. Each episode of "Family Food Showdown" features a different theme and competing teams from different cultures. The families who compete on the show are often cooks or own restaurants. The different cultures represented include Italian, Filipino, Cuban, Cajun, a southern family, a military family and many more. Watching the show is a great way for your family to learn about different types of food and the importance of sharing recipes.
5. Who really is the boss in your kitchen?
As in life, in the kitchen there's always a leader. Yet, it takes everyone to do his or her part to make a meal work. We all know that mom is the boss of the kitchen, right? Not always. The first episode of "Family Food Showdown" called "Mom vs Mom" featured two families preparing a Mother's Day Meal. The first family is an Italian-American Family from New York. The mother teams up with her son and his fiancée who own a food truck on Long Island. They compete against a Filipino-American mom and who cooks for her family's food truck based in Salt Lake City, Utah. While we get to see two great meals prepared, we also witness some family drama.
6. Work together as a team
One thing that "Family Food Showdown" certainly teaches us is that working as a team in a family is important. While the show offers some light drama among family members, it reinforces the importance of using individual skills to help the team win. According to "The Importance of Family Teamwork" By Ann E. Benjamin, teamwork within a family encourages shared vision, trust, communication, leadership and appreciation of differences.
7. Be creative
Because "Family Food Showdown" offers the teams a limited time to prepare a meal and throws in curveballs to enhance the show's competition and drama, team members must be creative. While it's interesting to watch the family dynamics unfold, it's exciting to see how important creativity can be in life. While one member of the family may be in charge of preparing the meal and delegating duties, everyone needs to think outside of the box given the time constraints and extra "curveballs" thrown into each round of the show.
8. Be flexible
Preparing a meal with others calls for the ability to be flexible. Even when making a meal outside of a realty game show, you can end up with things that won't work. You might not plan enough time. You might not have the exact ingredients. As on "Family Food Showdown" you might face obstacles while preparing a meal. According to "The Wisdom Daily," whether in the kitchen or in life in general, sometimes you just need to be flexible.
9. Competition
"Family Food Showdown" is competitive. Not only do the teams have to choose one of their own members to leave during Round 2, but each family can choose a member of the opposing team to be removed. The judges offer a theme for the meal, and the teams are given a very limited time to make it. The show also throws in some surprises to the competition which increases the competition and adds to the excitement, so each family's distinct family dynamics kick in.
10. Balance
When preparing a meal like on "Family Food Showdown", balance is a good thing to remember. According to "The Wisdom Daily," an important thing to remember when preparing a meal is balance. If you plan a meal with one complicated dish, the rest of the meal should be simple. Balancing a meal will help you achieve your goals. Just as in life, we all need to find balance in order to achieve the goals that we plan.