'Can anybody remember when the times were not hard and money not scarce?'This quote by Ralph Waldo Emerson has been uttered by many men during hard times. It would be no surprise if Lights himself began reciting this saying as after last night's episode, Lights and his family are falling onto some of the hardest times they will face in their life.
The effects of the Omar fight are clearly seen this week. I expected to see a break between the fight and Omar coming for Lights, Johnny and Pops but, the episode jumped straight to Omar wanting the money he had been promised. I liked that the writers decided to base a major chunk of this week's story, and possibly the rest of the season, off of the one fight we have actually seen the big finish to. This fight not only affected Omar but, it had a big impact on the whole Leary clan. With lack of money, the Leary's are shown coping the only way they know how. Whether it is Pop's going out fishing in a toxic river, Johnny trying to squeeze a little more money out of Barry, or Lights fighting in a MMA fight to cover everyone's debts, this episode really showed that when pushed to such lows, everybody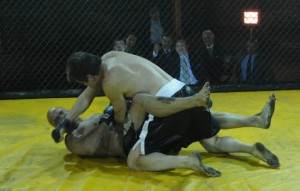 involved will do whatever it takes to feel like they are helping out.
The aforementioned MMA fight was really a special treat for us the viewers. It seemed that the fight was hinted during the bar scene when Lights and Pop wanted to watch a boxing match only to see the bar was playing the MMA fight. I was hoping for Lights to have a major fight this season beside the fight between Death Row (which I am assuming will be part of the season finale) but I never expected to see him step into the steel octagon for a full MMA fight. The fight itself was quite interesting. Lights pride kept him from tapping out many times and just when you think Lights is down for the count, he comes back with a throat punch to end the bout. My only concern though is that his opponent is actually dead and not just knocked out.
The side story following Theresa was quite interesting and the more I think about it, it served more as just another view to the main story. With Theresa wanting to be more charitable, she willing donates $50,000 to the church for rebuilding a clinic in Haiti. This would be a great thing if the Leary's had any money. The scene when Theresa finally learns that her family is now broke showed some great acting by Catherine McCormack. I felt the anger and anguish in her voice as she slowly realized that she has really pledged 'imaginary'money to the church and could see that maybe her life with Lights could be taking a turn. It will be interesting to see how the writers continue to tell her story throughout the season.
This week really showed that Lights Out still has many punches to be thrown and we the viewers have to watch out for the crazy left hook episodes that move the series into a different direction. A