Well it looks as if Lights can rarely catch a break in his comeback run. It's like every moment in Lights' life is filled with turmoil and bad judgments. We all want to see the former champion regain his glory but maybe it just isn't in the cards for Lights to get back on top. It looks as if Lights may even end up dead before he steps one foot into the boxing ring again.
This week proved to be quite a tough week on the life of Lights. Not only does Lights have to retrain his body into perk fighting condition but, he has to do it will a mess of problems on his plate. With a possible divorce, an angry reporter, a ruthless opponent, and a devilish promoter, Lights is pushing his life to the limits. I enjoy the fact that the writers are not making this a cakewalk for Lights. Then again what person would want to watch a show that has the main character coast to his boxing match and live the perfect life. It's the trials of Lights that bring us viewers back each week and it seems that the writers have many more trials for Lights to encounter this season.
This week also brought back Femosa (Ben Shenkman). I have to say that out of all the villains so far on Lights Out, Femosa has to be the one with the most power. While Barry may have enough money to do whatever he pleases and El Diablo may be able to destroy Lights' body, Femosa has the weapon of the press to destroy anyone he so pleases. Femosa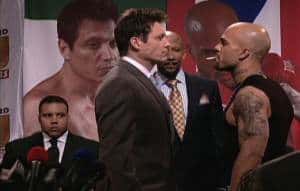 seems to have been busy since we last saw him a few episodes ago. He comes back swinging though as he prints the story of Lights and his ill-fated MMA match. Femosa goes as far as attempting to ruin Lights' marriage by trying to print a story of Lights', a prostitute, and a serious car accident. Luckily for Lights, Johnny has done some major damage control and was able to cover up the accident and in turn make Femosa look like a liar to his own newspaper. It will be interesting to see how Femosa plans to come back for revenge.
It seems that Lights may now be at a disadvantage during his fight against El Diablo. During a sparring match at the gym, Lights caught a thumb directly in his eye causing his vision to become distorted. This proved to be troublesome not only for Lights but, in an odd editing trick it proved troublesome for even me. I liked the idea of every so often giving us viewers the view of Lights but, after a while my own vision started to become distorted due to this editing. I may not be the only one, but by the end of the episode I was seeing the show with blurred vision. This was a great trick to help us see the problems of Lights but, I think it's something that shouldn't be repeated anytime soon.
With Lights battling more than just an opponent in the boxing ring, things have begun to get interesting on Lights Out. Even without a real fight this week, Lights Out still hit all its marks with precision. A