When someone says they are cleaning house, usually it means that someone is shedding off all the old habits and items from their lives and starting fresh in hopes of doing better the second time around. With that being said, cleaning house mostly comes after a bad idea goes horribly wrong except if you are Lights Leary. Coming fresh off his win against El Diablo last week, Lights is determined to be in the best shape to fight against Death Row. The problem is he is cleaning house of all that give him the strength to win his fights. With Lights throwing out Johnny, Margaret, and even Pops, he takes his fighting career into his own hands.
After winning last week, Lights was determined that he would go fight Death Row next. We saw that this caused Pops to end his career as Lights trainer. This falling out was the basis this week for the main story and it came with full force toward the viewers. With Lights needing to get a new trainer, he enlists the help of Death Row's previous trainer Romeo (Eamonn Walker). Little is known about Romeo at the beginning of the episode but, we the viewer's got a full view of his training methods by episode end. I looked at Romeo as a mixture of Yoda's wise teaching, Mickey's touch attitude, and Darth Vader's raspy voice. This all creates a brute of a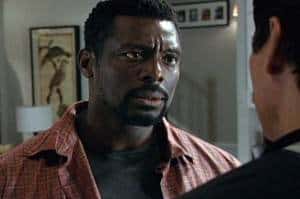 trainer for Lights. Oddly though, Lights enjoys the workouts with Romeo and even go as far as to push Johnny and Margaret out of his training. In my opinion, this is one of the bold yet stupid moves Lights has ever pulled. Family is one of the most important things in boxing and even more so in life in general. With only his wife and 2 out of his 3 children backing him now, it will be interesting to see how far Lights will go just to regain his title from Death Row.
In terms of a side story, this week had a great message aimed towards young teens. With Eva wanting to go to prom and stay in the city, Theresa plays the tough mom and straight up forbids her from staying in the city after prom has ended. At first I thought Lights Out was going to use this portion of the episode to preach about the dangers of young teens in a big city but, LO impressed me by the way they handled the whole situation. Having Theresa try a scared straight method to change Eva's mind was a smart move and I believe that it made Eva more aware of the dangers that could happen in the city. While she still ended up going to stay in the city, she went with sound mind and idea of what could happen if she slips up. In the end, it also showed that LO is able to teach young viewers a lesson without having to cram it down their throats After School Special style.
I would like to use this small section to address something I noticed in LO, and in many other television programs. What I am talking about is the missing child syndrome that many shows undergo. We all know that the Leary's have a third daughter named Katie but, it seems she is appearing less and less in the series. The show is able to throw in some clever distractions to make it seem like she is just away (Katie was at a Girl Scout retreat this week). It will be interesting to see if LO will continue to make up excuses for Katie's absence or, and this is a drastic move, will LO write out the character of Katie and hope that the viewer's forget about her.
This week started to open up a new door for the boxing life of Lights. With the past actions of Romeo coming into the light, it looks as if Lights will be in for a long haul. Seeing Lights Out put so much on line this week, it shows that no punches are going to be pulled from her on out. A