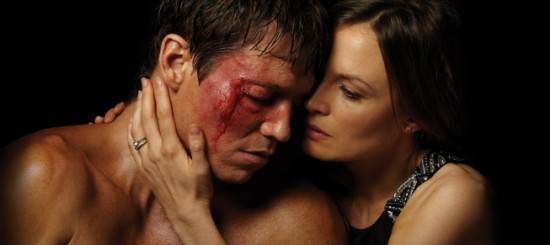 By now, most of you know that last week Lights Out was cancelled. If this is still new to you, check out Shilo's post about the sad news here. With that being said, fans of Lights Out still have 2 episodes left to enjoy on their Tuesday nights. We here at TVOvermind were granted access into the end of Lights Out and would like to share a little preview with you the fans. Here are some things to look for on this week's episode entitled 'Sucker Punch'and also a preview to the episode.
Momma's Home
Everyone has a mother, and that includes Lights and his siblings. While we haven't seen or even heard much of the mother of Lights, Johnny, and Margaret, this week we get a whole lot of momma. There is a big reason that Mrs. Leary has not been present all this time and some people wish she would stay away longer. Expect some anger and tears to come out of the return of an unwanted guest.
My Sister's Keeper
Like me, you may have been surprised to see Margaret hook up with Hal Brennan. Though we have seen little pieces of the relationship thus far, be on the lookout for a moment that brings the two 'closer'to each other than we have seen before and also wedges a bigger gap between Lights and Brennan.
A Brother's Score
Of course, it wouldn't be a Lights Out episode without talk of the Lights vs. Death Row fight. This week has a reveal of the Las Vegas betting odds and you can believe that one of the fighters doesn't like the odds dealt to them. As the story unfolds, you will see a humorous way one fighter evens the odds standings.
With this being the penultimate episode of the Lights Out series, it is a must watch episode. Be sure to get into the ring tonight at 10:00 P.M. Eastern Time of FX for the premiere of the "Sucker Punch'episode.