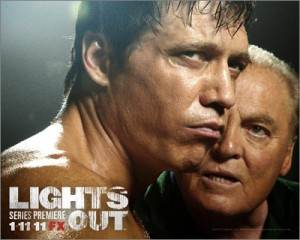 Entertainment Weekly is reporting that FX has canceled ratings challenged boxing drama Lights Out with two episodes left to air in its first season. Said two episodes will air as scheduled with the series finale scheduled for April 5th at 10:00.
Lights Out is the second critically adored FX drama to be canceled this season, following in the footsteps of Shawn Ryan's Terriers. The show started out with modest ratings, but it couldn't find a foothold in a treacherous timeslot that featured the likes of Southland, Parenthood, The Good Wife, The Game, and Teen Mom 2, among others. FX has one more show set to debut this season (Wilfred starring Elijah Wood) and several shows in development, including a television adaptation of Powers and a drama about southern organized crime named Outlaw Country.
Lights Out starred Holt McCallany as Patrick "Lights" Leary, a former heavyweight boxing champion lured back into the ring by rising debts and an eternal competitiveness. It also featured Pablo Schreiber, Catherine McCormack, and Stacey Keach.
How do you feel about Lights Out fading to black? Were you enjoying the show? Do you think star Holt McCallany will land another series soon after a well-received turn as Lights Leary? How do you think the show will end?