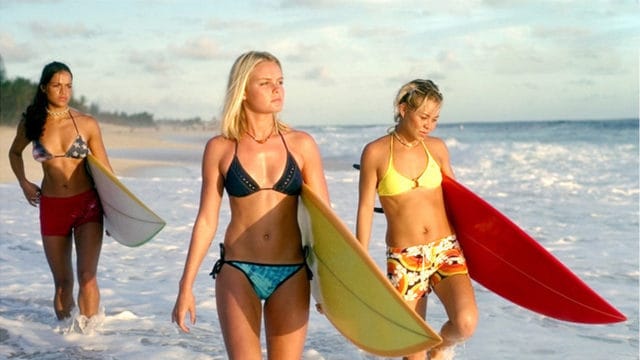 You know how there are tons of movies that when they're on TV you just never turn them off?  While some movies are fantastic and you'd never turn them off because of that reason alone, others aren't of such high quality but they admirably pass the time while you're waiting for something better to come on.  I call them placeholder movies.  I don't know why.  I don't know how.  But for some reason Blue Crush is 100% entrenched in my placeholder movie menu and it's not leaving anytime soon.
I cannot for the life of me figure out why I like this movie so much.  At first I thought it was Kate Bosworth.  Granted I think she's gorgeous in this movie and I do like Kate Bosworth a lot but just one attractive female has never been a reason I'd repeat watching a movie before.   Then I'm thinking is it Michelle Rodriguez?  I always like her tough demeanor in films but I didn't even care for her character much in this movie.    And then there's the third girl whose real name I'm not looking up.  She's incredibly annoying in this movie.
Is it Bostworth's love interest?  Meh.  Not even a great actor.  Is it the surfing?  That's not possible because Step Into Liquid and North Shore are far and away the best surfing movies of all-time.  Is it Hawaii?  I mean I went there on my honeymoon so I'll always love Hawaii.  But that can't be it.
It's really bothering me.  The acting isn't good.  The writing isn't good.  Even the surf scenes aren't good.  I think the only answer I can think of is that the movie is "fun."  Anyway, it's still on but I had to come down here and write this.  I'm gonna go back upstairs and watch the rest for the 50th time and try to figure out why I like this movie so much.   Maybe you guys can help me.