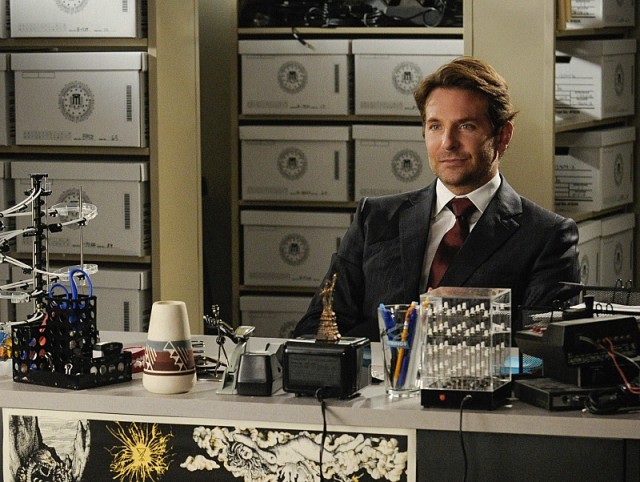 This week's episode of Limitless was pretty good. It dealt with Senator Eddie Morra's shady past dealings with NZT and the current effects of them today. It came down to a duel between Morra and the past user, with Brian stuck in the middle being told he had to kill one or the other. What? Brian a killer?
To understand the situation, you've got to backtrack a little. Just as he's about to announce his presidential nomination, Senator Morra is grazed with a bullet (because he can figure out all of the angles!!). Now the FBI's on the lookout for a female assassin who is incredibly fast and can shoot an incredible distance.
When Sands meets up with Brian in the FBI building, he gives him the inside scoop: he knows the name of the killer! Her name is Piper Baird, and she once used NZT. In fact, she was once in Brian's shoes. Now, she's escaped with a year's supply of NZT but is running out. He wants Brian to make sure that the FBI doesn't catch onto Piper's scent until they've caught her. Instead, at the crime scene, she plays a game of cat and mouse with Brian, and they end up in his parents' living room with her pretending to be his girlfriend! She explains that she was one member of the team that developed the enzyme that helps Brian, and that when she stopped helping Morra, he killed her boyfriend. When Brian asks Morra, he says she's a liar and is delusional. They give Brian a gun and tell him to kill her. While Brian seemingly pushes her in front of a train, Piper actually leaves the country, ready to pursue a new life elsewhere.
Now, I never actually believed that Brian was a killer. I was trying to figure out how he got out of it, but I never actually bought into the idea that he would murder someone. What I did find interesting was his comment that every time he lied to the FBI, it got a little easier. On the one hand, it keeps him alive, what with Morra giving him the enzyme and the shots. On the other hand, you have to do right by the people you're working with. It would be better if he hadn't done it at all, but it's going to come out eventually and it might even be to Rebecca. Not going to lie, I can't wait for that!
Speaking of Rebecca, a woman came in who "confessed" to the shooting. She obviously didn't do it, as Rebecca and Boyle put the pieces together, but she began looking at the connection between Morra and NZT. Let me tell you, if Limitless was just one season and everything came out, that would be fine with me. I love how things were kick-started in one episode and then finished in the next. If Rebecca gets close to discovering Brian's secret, I'm all in on Limitless. I want to see push come to shove and have Brian make a decision between Rebecca and Morra. I can't wait.
Other thoughts:
So Senator Morra is now officially throwing his name in as a presidential nominee. I have a feeling if he wants it, he'll get it.
I'm getting to like Naz more and more. She offered to backdate Rebecca's HR form to say that she was in a relationship with Rooks. You don't do that if you're the type of boss who always says "no" to every great idea.
I truly don't like Sands, though. Can't they write some redeeming characteristic for him? In the last episode they wrote that every time you kill someone it gets easier. If you're not going to offer up some backstory, just let give someone something to drink and leave.
Finally, I wasn't sure how to feel about Morra in this episode of Limitless. I felt the same way, until he and Brian were sitting in Brian's office and he said that Brian wants to be a better person but just doesn't want to admit it yet. You can't force something like that. The same way that he learned and grew from his experiences is the way that Brian will.
[Photo credit: Jeff Neira/CBS]
Limitless Season 1 Episode 12 Review: "The Assassination of Eddie Morra"
Summary
Brian gets a glimpse into one of Senator Morra's failed NZT experiments in this week's strong episode of Limitless.