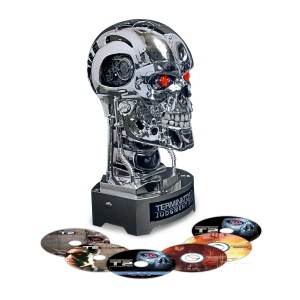 To capitalize on celebrate the upcoming release of Christian Bale's Terminator reboot, Lion's Gate has cooked up a duo of super awesome legacy Terminator products. For fans of old-school Terminator flicks these new bundles are much more than just the standard remastered fare, the T2 disk alone boasts over 8 hours of extra, and the quality enhancement is nothing to take lightly. The collector's set is where it is at, though, featuring a life size bust of the Terminator t-101, or model 850 issue, whatever. (Damn you T3!).
Here are all of the specs on the Terminator releases along with the trailer for the set.
BLU-RAY SPECIAL FEATURES:

Multiple THX-certified versions high-definition versions of the film
All-new English 6.1 DTS-HD Master Audio Lossless
Picture-in-picture of behind the scenes video, text commentaries and multimedia galleries
Storyboard-script mode — view storyboards and read the script while watching the film
Interactive quizzes and games
BD-Liveâ"¢ enabled, featuring games, extra content and more for internet-connected players
Audio commentary with 26 cast and crew members
Audio commentary with director James Cameron and co-writer William Wisher
Enhanced for D-Boxâ"¢ Motion Control Systems
Includes THX Optimizer

COMPLETE COLLECTOR'S SET SPECIAL FEATURES:
For the ultimate T2 fan to enjoy the film anywhere, anytime!

6-Disc Set includes:
Skynet Edition Blu-ray
Extreme Edition and Ultimate Edition DVDs, which together include everyT2 special feature ever released on DVD!
Plus a digital copy of the film compatible with iTunes(r) and Windows Media
Comes with a 14'collectible T-800 Endoskull bust — plays sound effects from the film while its eyes glow!
Limited number available — order while supplies last!
And Here's The Trailer
[media id=26 width=640 height=480]