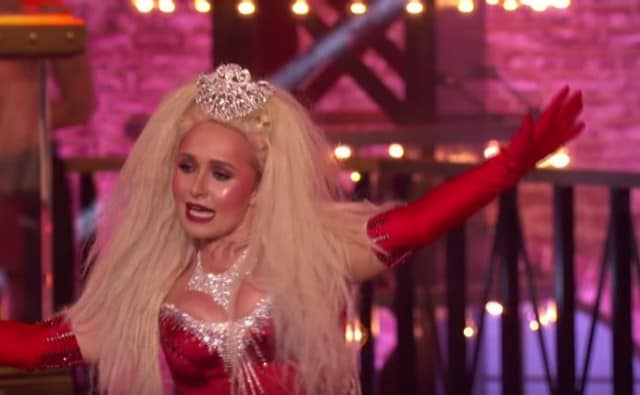 Nashville star Hayden Panettiere won't actually be singing during this week's Lip Sync Battle, but that doesn't mean she won't be giving viewers a fantastic performance, as shown in this sneak peek from Thursday's episode. Panettiere, who is going up against Telenovela actress and Desperate Housewives alum Eva Longoria, takes on the song "Lady Marmalade" with some help from a special guest: Christina Aguilera.
In the video below, Panettiere comes out dressed in full costume, just like Aguilera, Pink, and Lil' Kim were back in the 2001 music video. Honestly, her commitment to the performance (it looks like she really goes all out for this one) would have been enough by itself; however, when Aguilera surprises everyone and joins her on stage, it makes it clear that Panettiere is, at the very least, the winner of that round.
As fans of Lip Sync Battle know, this isn't the first time that an artist has appeared on the show to help perform his or her song. Just last month, Beyoncé joined Hail Caesar! actor Channing Tatum on stage for "Run the World (Girls)," which made the entire crowd, along with his wife, Jenna Dewan Tatum, go crazy.
Watch a brief clip of Hayden Panettiere and Christina Aguilera teaming up for "Lady Marmalade" below, and tune in to Lip Sync Battle on Thursday at 10 p.m. on Spike to see the full performance.
[Photo via YouTube]