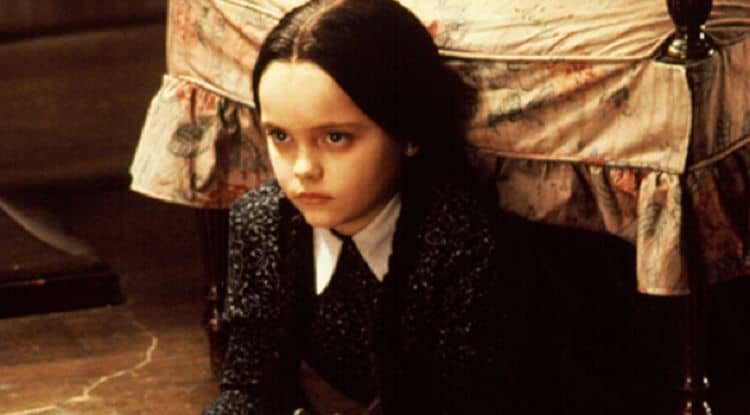 Somehow the Addams Family just got a lot weirder, and possibly even darker than ever before. When the two live-action movies came out in the early 90s their sense of humor was dark, disturbing, and yet insanely funny given the timing and nature of their gags. It sounds as though things are going to be taken in a slightly different direction this time as Tim Burton takes control in order to tell the story of Wednesday Addams in a very different manner. Not only is she going to be developing her psychic powers but she's going to be attempting to figure out the mystery behind a rash of killings that have been happening in her community, and she will be seeking to unveil a mystery involving her parents well over two decades in the past. In short, things are getting a lot grimmer and possibly harder to grasp as this particular story moves forward. Focusing on Wednesday appears to be the thing at this point though since leaving everyone else as part of the backdrop has apparently become the norm, even as they've continued to be pushed forward only to fall back to accommodate Wednesday's narrative in the 2019 animated version of the kooky family. When looking at it though, Wednesday is a bit more interesting than Pugsley, even if each member of the Addams family could possibly take up at least several hours of storytime on their own.
In a way, it's interesting to see that the rest of her family won't be the focus since at one point there are plenty of people that might have thought that Wednesday wouldn't be quite as interesting without her family there to fall back on from time to time.  But apparently someone is thinking that she has enough of the 'it' factor to make this work. With Tim Burton, it could happen since the director is well known for taking kooky stories and turning them into hits, or at least something interesting that people will get into. The character of Wednesday Addams feels like someone that could get more interesting as she grows up and refines her appetite for mayhem and the macabre that helped so many to enjoy her as a young character, but it stands to reason that she would be more like her mother Morticia than her father Gomez since Gomez was usually such a lively and energetic individual while Morticia was the dark, seductive type. Wednesday has almost always been the dark, brooding, possibly kill you when you least expect it and in the most interesting way type.
Over the years the Addams have been focused on a few times and there have been efforts to bring them back that started back in the 90s and was renewed in a less memorable attempt sometime after that, but there's always been a rather impish and playful quality to the family that's been enjoyable and altogether easy to get into. Right from the start of this description, it feels as though Wednesday is finally going to get to take things in a darker direction as she was almost always seen as the dire member of the family, the one that was almost always ready for mayhem and would relish in it with a straight face that would only change once things really started happening. How this will hold up on Netflix is kind of hard to say since it's not a bad thing to see such a development take place, far from it in fact. But the idea that she'll be more or less on her own unless other family members get to cameo now and then, is a bit hard to take simply because Wednesday has been seen with her family more often than not. Even in Addams Family Values, she had Pugsley with her when they attended summer camp, and in the animated version, she was still a part of the family unit no matter how far she strayed. Seeing Wednesday on her own is going to be different to be certain, and yet it could help to write a new chapter in the Addams story and possibly carry them into the future just a bit so that the coming generations might have a piece of the family to enjoy as it develops.
So far it sounds as though things haven't progressed quite as far with this show as people might like, but the idea is there and the wheels are spinning, so as things progress we'll be talking more about it in order to better understand what's coming and how it will continue to develop. One thing is pretty clear, with Tim Burton at the helm things are going to get weird in the best possible way, especially since the story revolves around a member of the Addams family.