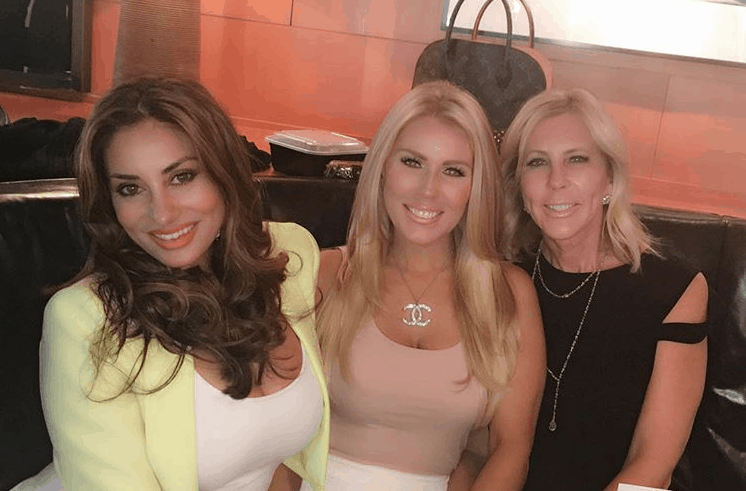 Maintaining the coveted position as a main cast member on The Real Housewives of Orange County isn't an easy thing to do and Lizzie Rovsek knows this from first hand experience. Lizzie joined the cast during season nine as one of the main ladies on the show, but was demoted to a friend the following season. She then went on to appear as a guest before leaving the show completely. Now, Lizzie is back on RHOC as a guest and many viewers believe that she will eventually regain her place as one of the stars of the show. Even though she hasn't gotten as much camera time as some of the other women, Lizzie always manages to light up the screen. Keep reading for 10 things you didn't know about Lizzie Rovsek.
1. She's Originally From Kentucky
Lizzie has been living in Orange County for so long that lots of people probably assume she was born and raised there. In reality, however, Lizzie's upbringing was a far cry from the glitz and glamour of Southern California. Lizzie was born and raised on a farm in Kentucky and she comes from a very close knit family.
2. She Studied Fashion Design
Let's be real, it seems like everyone is attempting to start some sort of clothing line these days, and most of these people don't actually have any sort of background in fashion. That isn't the case for Lizzie though. She has a bachelor's degree in fashion design and merchandising from the University of Kentucky.
3. She Was A Pageant Queen
If there's one person who knows a thing or two about being in the spotlight, it's Lizzie. She grew up as a dancer and eventually went on to become a beauty queen. She was crowned Miss Kentucky USA in 2002 and went on to represent her state in the Miss USA pageant.
4. She Loves The Outdoors
You might be able to take the girl out of the country, but you can never take the country out of the girl. Even though Lizzie enjoys all of the luxury that comes with living in Orange County, she still enjoys spending time out in nature. She loves to go hiking and exploring when the weather is nice.
5. She Launched A New Swimsuit Line
If you're a RHOC fan, you probably remember Lizzie's swimsuit line, Sun Kitten. Since being launched in 2010, her swimsuits have been featured in some very cool places including Sports Illustrated. While she is still working on Sun Kitten, she has also started another swimsuit line called Thom Cat surt and swim wear which was specifically designed for boys and men.
6. She Hosts A Podcast
Even after her hiatus from RHOC, Lizzie continued to stay busy and do her thing in the entertainment world. Lizzie is the co-host of an internet talk show called Upgrade Your Life. The show streams from Ever Talk TV and aims at providing positive and uplifting stories to help people 'upgrade' their lives.
7. RHOC Is Her Only TV Experience
Lizzie is such a natural in front of the camera that some people may be surprised to know that she doesn't have any acting experience and she's never done a reality show outside of RHOC. While reality stars are often accused of being thirsty for attention, it appears that Lizzie actually prefers to lay low.
8. She's Still Married
It's no secret that divorces can be somewhat long and drawn out, but many people are still surprised to find out that Lizzie and her husband's divorce still isn't finalized after almost two years. Apparently, they aren't in a rush to seal the deal either. According to an article from People, "We co-parent. We started dating when we were 22. We're very close, we're family still. We have our little boys who are the most important thing. He lives 3 minutes down the road, I can walk there. It's very friendly."
9. She Loves To Travel
Lizzie loves to have fun. She's the kind of person who is always looking for ways to live her life to the fullest. Traveling has become one of her favorite ways to do that, and she's gotten the chance to visit lots of places both in and out of the United States. Some of the countries she's been to include Italy and England.
10. She Enjoys Working Out
Lizzie's schedule is probably constantly packed. She's a mom, a business woman, and now she's back on RHOC. However, self care is very important to her and she does her best to find time to stay active and exercise. She is also a brand ambassador for Flat Tummy co which has a line of products aimed at health and fitness.