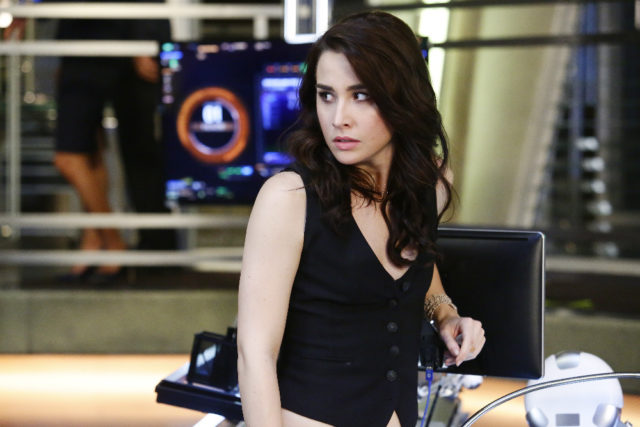 There is no shortage of hot new television series that will capture the attention of a wide and diverse audience. There is definitely programming that is built to suit the fancy of almost any type of entertainment fan.  But let's go back in time to a show that had a solid fan base and we think might be in need of a reboot:  Warehouse 13.  To give the show more octane, it added a new character, Claudia, who was played by Allison Scagliotti. Scagliotti played an immensely smart computer hacker, and you may recognize her from a role in which she also plays a very smart chick in the role of Mindy on Drake and Josh.  She's also on the show Stitchers.
To give you more insight into Allison and her character on Warehouse 13, we decided to give you 5 Little Known facts:
1. The Chemistry Between Allison and Saul is Real
There has been a lot of talk about the chemistry that Allison and Saul share on the show. When asked about the perceived chemistry, she admitted that the chemistry is authentic. She revealed that the moment that the two met, they immediately synced with one another and the relationship blossomed. In this case, the term "relationship" refers solely to the professional relationship that the two share on the set. Or does it?
2. The Crew Actually Comes Up with Artifact Ideas
One of the unique nuances of this show is the creative aspect that surrounds the introduction of artifacts, and Allison admits that the crew is allowed to contribute to the development of these artifacts. She reveals that in a humorous way these artifacts are really not all that appropriate. One idea she came up with is Marilyn Monroe's lipstick having the power to make men fall in love with her, and it would need to be in the Warehouse because it had the power to make people end their lives the way Marilyn did.
3. She Easily Differentiates Between Mindy and Claudia
While she has played a character that is somewhat similar to Claudia in Mindy, she says that it is easy to differentiate between the two when she is shooting. According to Allison. The two are completely different from one another – so much so that if there were to meet that would not have a clue of how to deal with one another. Allison admits that it is important to separate the two characters in order to bring Claudia out.
4. Allison is Not a Sci-Fi Junkie
With someone playing such a significant role in a sci-fi thriller, you would think that they would have to have some type of connection to the sci-fi world, but Allison reveals that she has never really considered sci-fi to be her area of expertise or a niche that she was comfortable in. She said, the exception would be idolizing Sigourney Weaver and a standardized devotion to Star Wars, but other than that, there are no connections.
5. She Introduced Her Own Fashion Style with Claudia
Allison admits that one thing that she likes is the fact that she was allowed to introduce some of her own fashion sense into the character of Claudia, which was not the case with Mindy on Drake and Josh. This added bit of creativity has allowed her to really embrace the character and make it her own. She is excited to see just how much latitude the director and producers are willing to give her moving forward.