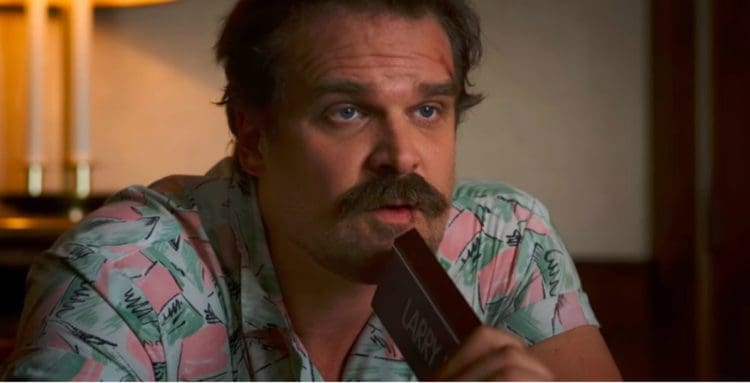 There are a lot of questions to ask when it comes to a Hopper series that will be apparently splitting off from Stranger Things once the fourth season is done and over with. As D.J. Rivera of We Got This Covered has reported it sounds as though the idea is to give a series to Joyce Byers and Hopper following the end of the main show, though one has to wonder just where the rest of the cast is going to head off to and what the series will entail. Obviously the two have a connection but at this time the plot and any other details are being kept firmly under wraps and fans can only guess at what might be coming next as the two might finally get together and stay that way, or perhaps remain in each other's orbit for a while as the series unfolds. Stating that fans want to see more of them isn't inaccurate, but it does feel as though a series without the younger cast members might be kind of a hard thing to sell considering that Eleven and the rest of the group have become a very big focal point of Stranger Things. While Hopper is definitely a big point of interest as well, a lot of people might at least speak up and state that while she's important to the story, Joyce has been kind of a basketcase throughout the entire thing at this point and such an act can get old eventually, just as Hopper's 'hit anything that moves until one gets the answers they want' routine is just as capable of getting tired after a while.
In a big way this doesn't feel like a cash grab, but it does feel as though the Duffer Brothers believe that holding onto Hopper's character is a great idea since it could possibly follow a thread that they believe will continue to branch out and strengthen as it attracts more viewers and explores different story lines in an attempt to create a fairly legendary character. Hopper's main draw at this point is that he's been around since the first season and has played a very crucial role in the story. This was why so many people were devastated when the last season apparently showed that he'd been vaporized during the explosion that he and Joyce caused in order to shut the gate leading to the Upside Down. At that point people should have already realized that most shows don't just up and get rid of characters like Hopper without giving them a sendoff that's far more pronounced and isn't bound to leave people with their jaws hanging towards the ground as they wonder what the hell just happened. Characters such as Hopper don't get axed from a show in this manner, they tend to go out in a way that makes them legendary, not just a footnote in the history of the show. Bre Williams of the Cheat Sheet is just one of many that felt the need to write about this.
Obviously the tension had to be increased to a level that would at least make people think that such a thing would happen, but the relief of many was palpable when it was revealed that Hopper is in fact still alive. Maybe it's because I'm an author, maybe it's because like so many I've seen many a moment such as Hopper's 'death', but it wasn't too hard to think that he was going to show up again since there had been no major announcement that David Harbour was leaving Stranger Things. One thing that people tend to forget is that in this day and age the news of someone leaving a show travels pretty fast, and unless there's a strict reason for keeping things secret then there's a good chance that such news would have hit the grapevine and been halfway around the world within a couple of days, if not sooner. At this time though a Hopper series might sound like a good idea to a lot of fans and to the Duffer brothers, but in a way it sounds premature and even more to the point it does sound as though it might not be able to gain the same type of support that Stranger Things has throughout the last three seasons. In fact, considering that the third season wasn't given the same type of enthusiasm as the first two, it's easy to think that a Hopper and Joyce series could easily be given a slight nod and smile of acknowledgment, but would need to be bring something truly special and groundbreaking to keep the same kind of pace and attention that the two have been given as a part of the main story.
It's a feeling, not much more really, but a Hopper series might not go that far. If I'm wrong though, I'll be one of the first to admit it.