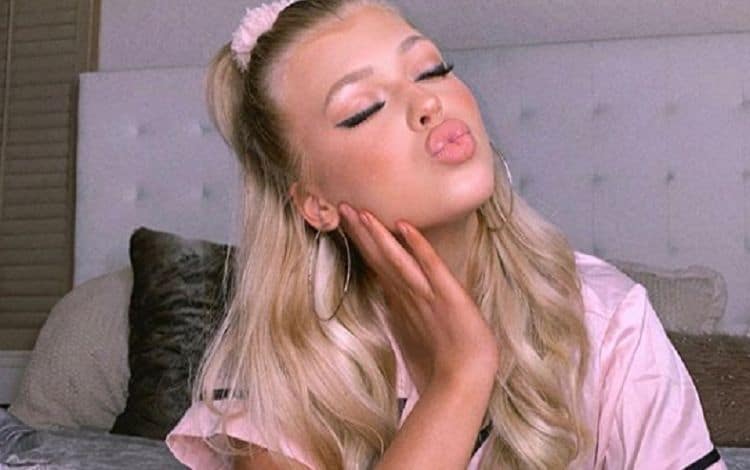 Some of us beg people to like our social media pages, but Loren Gray does not have to ask anyone to follow her. Her lip-syncing videos have created such a reputation that she now finds herself with over 36.5 million on TikTok; matter of fact is she ranks as the most followed personality on TikTok. Her fame spills over to Instagram, where she has 18 million followers while on YouTube the number is 3.6 million. So, what more do you know about the TikTok influencer? Let's check out a few facts.
1. She can be mean
A pretty face does not count when your heart is ugly. Loren Gray may be attractive, but she revealed an ugly side when she roasted Baby Ariel and even mocked Ariel's relationship with Zach. Loren further made fun of Ariel's attempts at being a YouTuber saying that Ariel was trying too hard to be on YouTube. Her negative comments were too much for Ariel's fans to stand and they attacked her so much that Loren had to set her Instagram account to private.
2. Why she ended her relationship with Geo
When Loren took to Instagram to let her fans know that she was splitting up with Geo, she did not explain the reasons for the breakup. She, however, cleared the air saying that she could not be with Geo because he was jealous and so controlling that he had to approve her clothes and her social circle. According to J-14, Geo did not take the breakup kindly, and his mother had to talk with Loren's mother for them to move on peacefully.
3. What inspired her "Queen" video?
Loren believes that you set the standards for how people will treat you because if you do not value yourself, then no one else will see the point of appreciating you. Therefore she opines that people should stop the poor habits that resulted in people taking them for granted. They should then start treating themselves better to set the pace for the rest. In essence, the term "Queen" in her video is all about self-worth and appreciation since at the time she realized she deserved better.
4. Her favorite artists
If Loren had to have a music collaboration with any of the musicians worldwide, she would pick Eminem whom she considers her favorite of all time. To Loren, Eminem's lyrics are genius. Despite being part of the Gen Z, she still enjoys some throwbacks considering that some of her other preferred artists include Britney Spears, Pussycat Dolls and Spice Girls. Loren admitted that she loves Bazzi with whom she has mutual friends. She also thinks that Ariana Grande and Camila Cabello are talented musicians.
5. She hoped to be a forensic pathologist
Higher education leads to better chances of securing a well-paying job, and Loren hoped that she would go to college and become a forensic pathologist. Unfortunately, her plan has crumbled because even getting a high school diploma proved challenging as she confessed to Idolator. In October 2018, she was taking her GED to at least get high school over with meaning that her dream of becoming a pathologist will be shelved. Forensic pathology demands an undergraduate degree and a medical degree. Further one needs at least four years as additional training in forensic pathology after which a one-year residency must be taken. With her busy schedule, Loren will not have the time to pursue her dream.
6. At 13, she was affected by haters' comments
Right now, Loren seems strong enough to handle anything thrown her way, but it took a while before she developed such a thick skin. When she started being a social media influencer, the celebrity was 13, which is a very fragile age emotionally and mentally; therefore, she took to heart everything that was said about her. Some people felt Loren was too young to be applying makeup; hence she would tone it down. With time, Loren realized she would never please everyone no matter what she did, so she decided to be herself.
7. She likes keeping it real on the internet
People post picture-perfect lives on the internet, and for those who are quick to believe everything they see, they become depressed, thinking they are the only ones going through a rough patch. Loren Gray, however, does not want to plaster a smile on her face even when going through a hard time. Instead, she posts her challenging moments and cites one New Year's Eve when she posted her mental breakdown that ended up becoming one of her most-liked pictures. It was not always the case for Loren; when she started, she always thought she had to look pretty for the cameras.
8. What she is getting from her Capitol Records deal
Some of the wealthiest people have made their fortune thanks to music and Loren is following in their footsteps. Although she became famous due to her lip-syncing, she has proven that she can sing. According to TMZ, she signed a contract with Capitol Records and made an advance of $550,000 for her first album. Her three next albums will rake in $4.8 million, an amount that is quite substantial for a teenager.
9. Some of her favorites
Loren loves animals, and two of her favorites are elephants and dogs, so it is no surprise that she has a dog. The internet sensation also has exquisite taste considering that her choice of perfume is Tease by Victoria's Secret. If you are thinking of dating her and want to make a lasting impression, you can take her to the closest beach and after that treat her to a meal at the Olive Garden restaurant. On a hot day, Loren will appreciate a sip of lemonade to quench her thirst and to kill boredom, reading "The Mortal Instruments" or "Divergent Trilogy" will do.
10. Why she loves being a Muser
Being a celebrity means different missions for various people. While to some, it is about making an extra dollar, all Loren wants is to make her followers happy. Therefore she does her best to ensure that whatever content she creates has a positive impact.