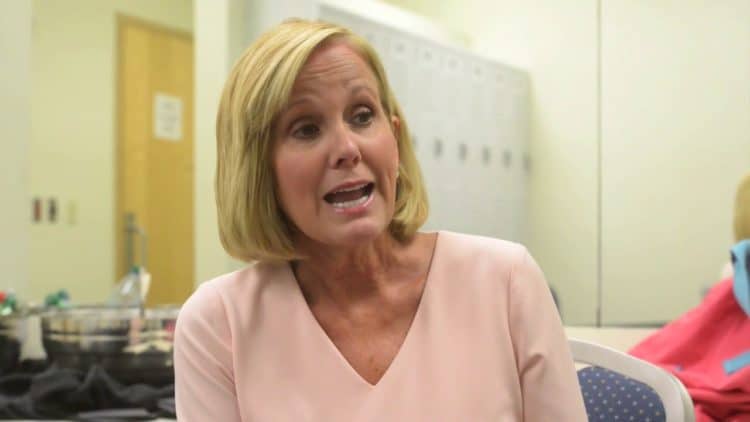 Since 2010, Lori Allen and her bridal shop have been the stars of Say Yes to the Dress: Atlanta. Lori has been the proud owner of Bridals by Lori for the last almost 40 years. The story is now the largest full-service bridal shop in the entire country. Her compassionate southern charm and keen sense of style has helped her make countless brides happy with a dress for their special day. After a decade of being on the air, Lori has become a favorite among viewers. She has also shown that picking the perfect wedding gown should be a memorable experience. Continue reading for 10 things you didn't know about Lori Allen.
1. She Gets Her Hair Done Every Other Day
As someone who owns a huge luxury bridal shop, it's no surprise that Lori Allen loves to stay on top of her personal style. How does Lori continue to look and feel her best? She gets her hair done every other day. Lori said she doesn't care if people think she's vain, getting her hair done is one of her favorite forms of self care.
2. She Was Voted Southern Lady Of The Year
In 2019, Southern Lady Magazine voted Lori Allen Southern Lady of the Year. The magazine, which has been in print for over a decade,  "delights, and inspires women who live in the South–and those who are simply Southern at heart. We focus on the joys of heart and home and the art of gracious living. We strive to bring a bit of Southern hospitality into the lives of each and every reader."
3. She's A Breast Cancer Survivor
A mammogram in 2012 revealed that Lori Allen had breast cancer. Further examination revealed that she actually had two different types of cancer in each breast. After other failed methods, she and her doctors ultimately decided that a double mastectomy would be the best course of action. Allen is now cancer free and using her platform on TLC to spread knowledge and awareness about breast cancer.
4. She Wrote A Book
Lori Allen is a firm believer that women over 50 need more representation. She wrote a book titled Say Yes to What's Next: How to Age with Elegance and Class While Never Losing Your Beauty and Sass! which will be released in the summer of 2020. When discussing the book, Lori said, "All my life I've been inspiring women and trying to get them to feel their self worth, especially mothers of the brides. I want them not to give up on themselves and have a clear path for their life after 50. I'm super excited about that."
5. Her Aunt Also Owned A Bridal Shop
Lori Allen's passion for wedding dresses began long before she ever thought about owning a store of her own. Her mother's twin sister, June, also owned a bridal shop in Alabama and Lori said she would visit all the time. Lori says she was "mesmerized by the rows of gorgeous embellished dresses, the veils and tiaras–it was like something out of a fairy-tale." She watched her aunt closely and quickly developed an interest in learning more about the bridal shop business.
6. Her Parents Were Her First Investors
When Lori Allen finished school, she decided she wanted to open up her own bridal shop. Lori's parents, Carroll and Jean, believed in their daughter's dream, too. As a result, the couple used some of the money from their life savings to help Lori open her shop. Bridals by Lori was opened in December of 1980, just 12 days after she completed college.
7. Her Children's Weddings Were Her Favorite
Thanks to her line of work, Lori has been around more weddings than she can probably count. However, she says her children's weddings were her absolute favorite. Both her son and daughter had very extravagant weddings.
8. She Has No Plans To Retire Any Time Soon
Despite nearing what most people would consider retirement age, Lori Allen has no plans to stop working any time soon. She is dedicated to her work and knows that she still has a lot to offer viewers and customers.
9. She's Not Involved In Picking Brides For The Show
Lori and her co-star, Monte, have no say in decision which brides are chosen to be on the show. Women who are interested in appearing for the show must apply and be chosen by TLC. Before being chosen, the network must also first confirm that the bride is actually getting married.
10. She's Really Good Friends With Monte In Real Life
Monte and Lori aren't just colleagues, they're also very good friends in real life. According to Monte, "We've known each other for 19 years and we're best friends and her granddaughters are my goddaughters. We're family.