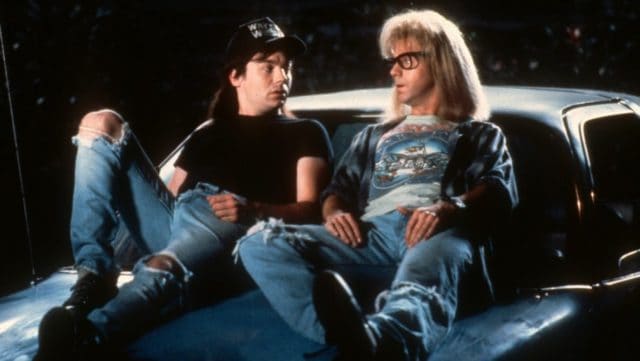 At this point a lot of people know Lorne Michaels as the executive producer of Saturday Night Live and the producer of many different films that have starred individuals that were either a part of the show or were guests once or twice. He's been a very busy man over the years when it comes to show business and has managed to land a producer credit on many films that people have responded to with great zeal. In fact some of these films have even managed to influence pop culture on a very big scale and in some ways have made it what it is today. The fact that Lorne Michaels has something to do with them is great since he's a comedian as well as a writer and a producer. His type of humor is usually pretty deadpan and it does manage to come through in some of the movies but for the most part he's been content to sit back and let the productions go on as they will. In many of the movies he's had a lot of say in what goes on but at the same time he's allowed the actors to do their thing. Much like SNL he grants a lot of creative freedom and doesn't usually step in unless there's a serious problem that needs to be addressed.
That kind of hands off attitude isn't the way he always does things but it does tend to help with the overall development of a film and the effort that's made to bring such movies to the audience. After all each film on this list features actors that have been well-established for many years and know enough about what they're doing to make the film work. Michaels rarely has to step in to do much of anything other than what his job duties already entail.
He does plenty, but micro-managing people is the least of his concerns it would seem.
5. Guilt Trip
Not a lot of people know about this movie but it's one of Seth Rogen's best. In this film he takes a road trip with his single mother across the US in an effort to sell his new cleaning product. The only problem is that while the product is great and works like a dream his skill at selling it is sorely lacking. His mother, who has no trouble with self-confidence save for when it comes to dating, becomes what you might call a constant irritant as she tries to manage her son with the best of intentions. Near the end of the film both mother and son come to a realization that they still need each other, but are confident that they can go and live their own lives as they see fit.
4. Mean Girls
Welcome to high school. This movie has become such a favorite that fans have been known to go absolutely crazy when they get the chance to see it. There's even been a live stage play made of the film. High school is never a nonstop laugh riot from one day to the next, but in this film the struggle just to get through each and every day is very real. The Plastics are perhaps the worst and most ignorant bunch in the entire school, but somehow they're also the most popular. That begins to change however when a new girl who comes to realize just how evil they really are decides to strike back and incites a struggle of such epic proportions that many who watch the film can't help but cheer her on.
3. Three Amigos
There have been a few movies that have shared this premise and they've all done a fairly good job of emulating the Three Amigos. Three Hollywood actors that have been released from their show are called upon to play the part of the heroes that they were depicted as on TV. The only thing that the townsfolk that have hired them don't realize is that they're less skilled than they've made out. Rather than back down from a fight however the Amigos attempt to scare off the bandits that have been troubling the town. Unfortunately you can imagine how it goes.
2. Tommy Boy
This is Chris Farley and David Spade at their absolute best. When Tommy's father dies not long after he returns from college it's up to him and Richard to try and save the company by filling orders and making certain that they can keep the buyers that were so enamored of his father. Unfortunately this means that Tommy and Richard have to come to terms with one another after being lifelong rivals. There's nonstop hilarity in this film and of course a few touching moments that manage to show just how well these two men worked together in the past.
1. Wayne's World
Wayne's World opened up a new door filled with possibilities for the SNL bunch. He wasn't the first by any means but Mike Meyers managed to lead a new wave of movies inspired by comedians from SNL that soon became commonplace as Lorne Michaels found it feasible to produce one movie after another starring those that had made SNL their home. In fact this became so popular that there was a Wayne's World 2 and several other movies based off of characters that had been created on the show.
It was a good move for Lorne at the time.