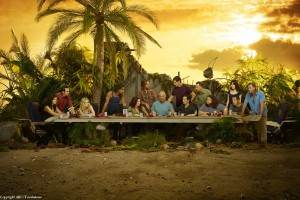 Great news, Lost fans – I am flying to Honolulu this week to attend the Lost Season 6 Premiere "Sunset on the Beach" screening, and will be on the red carpet before the event on Saturday to interview cast and crew!
Although I have about five years of questions myself, I decided to open them up to you as well. We don't know in advance which members of the cast and crew will be attending, but if you have a question for one of them – please leave it in the comments section below (and specify WHO your question is for). I can't guarantee that all of your inquiries will be rewarded, but I will print them all out, organize them on the plane and bring them with me to the red carpet.
Please note that they are only debuting the first hour of Episode 6.01 and my coverage will be 100% spoiler-free. I will keep you updated about everything leading up to and after it, but when "LA X" airs on Saturday night, I will not be sharing any details about what actually happens on screen. A mere three days later, most of you will find out anyway! We would like to ask that you please refrain from posting spoilers here as well.
So stay tuned to this site throughout the weekend, as we will feature a Twitter feed of my on-the-scene reports beginning Friday evening (I am hosting a fan meet-up in Waikiki!). Of course you can also follow along on Twitter (@TVOvermind & @JOpinionated) and Facebook.
If you submit a Lost question, you will be entered to win one of the custom, commemorative Lost tote bags that were created just for the big event. A winner will be randomly selected upon my return from Hawaii. Thank you in advance!