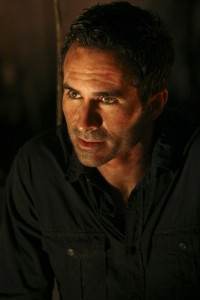 Next week's episode of LOST is all new on March 9 and ABC has released a whole whack of promo photos for the upcoming episode, which is set to be Ben-centric. Expect to see the return of another season 1 character who appeared in the season 6 premiere: Leslie Arzt. This makes a lot of sense considering Arzt was a high school science teacher and the writers have made Ben into a teacher as well. The original Locke will also be appearing in Ben's crash sideways, as he still seems to be hanging on to that substitute teaching position.
No synopsis has been released yet, all we know is that "Ben deals with the consequences of an uncovered lie". What lie could that be? The fact that he killed Jacob? You'll recall he lied to Ilana a few episodes ago and said that Fake Locke killed Jacob. Or is it a lie in his never-crash life?
Something very interesting to note in the photos below is those featuring Richard, Jack and Hurley. Is it just me or does it look like they're inside of a ship? Perhaps the infamous Black Rock? There's a lot of speculation that Richard came to the island on the Black Rock many, many, many years ago. Could he be providing Jack (and us) with some much-anticipated backstory to his character? Further speculation states that Richard came over as a slave on the ship. The way he's fingering those manacles (seriously, no pun intended) might be a clue.
Check out over 25 photos below for the new episode. Click here to view two sneak peeks for the episode.
[imagebrowser id=387 template = flipped]