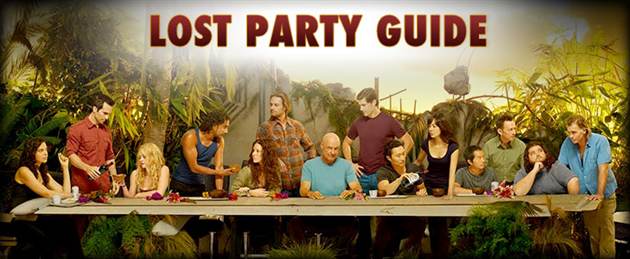 LOST's series finale is just a little over a month away, and it's time to start planning how you're going to watch the finale. Will you be watching it like me, alone so you can absorb the historic episode without the distractions of others? Or will you be watching it like so many fans: in style, surrounded by friends and fellow fans?
If you're planning for the latter, Lostpedia is willing to help you out. The fansite has put together a "Party Planner" page to help you sort through what would help make your final excursion to the Island a fun and memorable one.
There's plenty of great tips that the ever-growing page includes. Want to play some games before/after the episode and during commercial breaks? The page has a list of games featured on LOST, which includes the ever-popular backgammon, Connect Four, and the drinking games "I Never," and "Jackface" (both of which should be avoided if you want to actually remember the whole episode).
The site also provides a link to a site where you can by DHARMA jumpsuits and patches, just in case you're really wanting to go all out for the occasion. The suits are only $149, and include personalized names and job titles, as well as your choice of DHARMA logo patches. And, if you want to try and predict the end of LOST by invoking some spirits, a link to a site featuring LOST-themed tarot cards is also available.
LOST fans are famous for their fanaticism. Podcasters Jay and Jack (of The Lost Podcast with Jay and Jack have rented out a theater in which to watch the finale in style, with enough for hundreds of podcast listeners to join them. They're also planning on giving away a replica DHARMA bus, amongst other things.
What do you plan to do on the night of the finale? Will you be partying it up, or silently watching alone? Either way, Lostpedia can help you out.